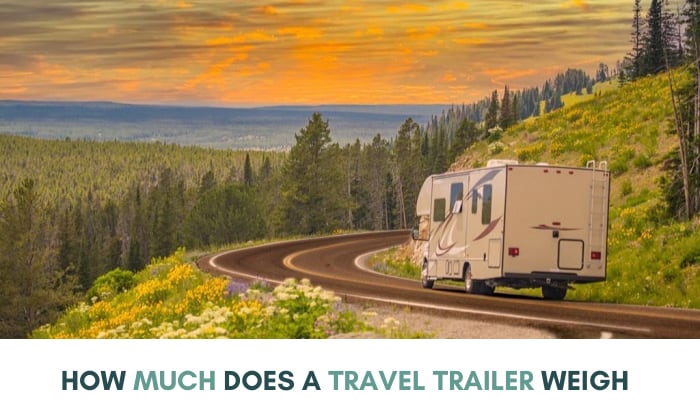 As time goes by, more people have become interested in the idea of owning a recreational vehicle. With RVs, you can get the best of both worlds as you can travel across the country while living the best comfort that a mobile home can give.
However, for those who want to buy a rig, the question "how much does a travel trailer weigh" may cross their mind. Read down below to know all about travel trailer weight and what affects it.
Weight of a Travel Trailer
Most travel trailers weigh an average of 5 000 pounds dry weight, but it also depends on their size. It's essential to take note that dry weight means it is the weight of your rig without any gear.
Your travel trailer should weigh 250 pounds per foot rig length if you add in your cargo weight. Here is a small table of the average weights of popular travel trailer lengths to help you understand this concept better.
| | | |
| --- | --- | --- |
| Travel Trailer Size | Trailer's Dry Weight | Gross Trailer Weight |
| 17 – foot | 3, 700 pounds | 4, 250 pounds |
| 19 – foot | 3, 800 pounds | 4, 750 pounds |
| 20 – foot | 3, 900 pounds | 5, 000 pounds |
| 26 – foot | 5, 500 pounds | 6, 750 pounds |
| 32 – foot | 7, 000 pounds | 8, 500 pounds |
As you move along with buying your travel trailer, you will encounter several terms that you may not understand. To help you with that, here are some of the travel trailer weight definitions that you should know beforehand.
| | | |
| --- | --- | --- |
| Travel Trailer Weight Terms | Label | Description |
| Gross Trailer Weight | GTW | It is the overall weight of your trailer and all cargo included. |
| Dry Weight or Unloaded Vehicle Weight | Dry Weight / UVW | It is the weight of your trailer without any cargo, passenger, or automotive fluids. |
| Sleeping Capacity Weight Rating | SCWR | This term is defined by multiplying the number of sleeping positions designated by the manufacturer by 143 pounds. |
| Gross Combined Weight Rating | GCWR | It is the combined weight of both the trailer and your towing vehicle. |
| Tough Weight | TW | It is the weight centralized on the hitch ball. |
| Tongue Weight or Vertical Load Rating | VLR | It is the maximum vertical weight that the hitch can carry. |
| Gross Vehicle Weight Rating | GVWR | It is the total weight of your vehicle, and all cargo and passengers included. |
| Curb Weight | Curb Weight | It is the weight of a trailer without any passenger or cargo. |
| Cargo Carrying Capacity | CCC | This term is defined by subtracting the UVW, potable water weight, and the SCWR from the GVWR. |
Things That Can Affect Your Travel Trailer's Weight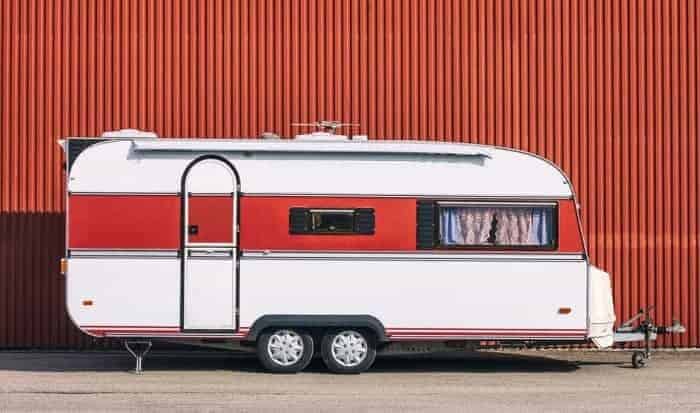 Since we've tackled the different weight definitions for travel trailers, it's now time to know the various factors that can affect your RV's weight. Many things can cause your trailer to become heavier, so watch out for these things.
1. Gear and Water Weight
The most significant factor in a trailer's weight is its gear and water load. A regular rig carries 48 gallons in its freshwater tank, and a gallon of water is eight pounds. This alone can add 400 pounds easily to your trailer's weight.
2. Construction
Another factor that affects your trailer's weight is its construction. Pay attention to the construction of a rig when choosing which one to buy.
It's better to get an RV made of fiberglass rather than an aluminum metal structure as it's lighter. Aluminum metal trailers are usually 900 pounds heavier, which may not be ideal for some.
3. Additional Features
Many travel trailers come with an option to add specific features such as slide-outs. However, it is essential to note the weight of any additional part you want to add. For example, a single slide-out can add a minimum of 800 pounds to your trailer's weight.
Importance of Knowing a Travel Trailer Weight When Towing
It's essential to know the importance of knowing how much a travel trailer usually weighs. Some people may think it's not crucial, but it is very beneficial for rig owners to know this. Listed below are some reasons knowing the weight of travel trailers can help RV owners.
1. Tires
Knowing your travel trailer's weight is vital for avoiding accidents concerning its tires. If your trailer's tires are either overloaded or underrated, there are more chances that you will have a blowout that can result in dangerous accidents, especially when on the road.
Therefore, always ensure that your tires are rated for the type of trailer that you have.
2. For wear and tear replacements
Towing or carrying load into your travel trailer will eventually wear out its parts. You should always check every aspect of your trailer to make sure that all parts are functioning well. If you plan on towing heavy stuff, make sure to check your RV's suspension and brake pads, as they will surely wear and tear faster.
3. For safety purposes
The next one is for the safety purposes of you and your travel trailer. In my opinion, safety is an essential factor that you should consider at all times.
If your travel trailer is higher than 750 kg Gross Trailer Mass, make sure that your brakes are connected to at least a single axle. It's also better to have electric brakes for your trailer, no matter how heavy it is.
4. To know your Travel Trailers Limitation
Another notable significance is knowing your travel trailer's limitations. All vehicles have a certain amount of load that they can carry or tow legally. If your trailer is on the larger side with a large engine, it can carry heavier loads than smaller vehicles.
Make sure to check for your travel trailer's specifications first, as it may seem significant, but it may not be able to carry or tow heavy loads.
5. To understand fuel consumption
The weight of your travel trailer will undoubtedly take a toll on your overall fuel consumption. Consequently, the same happens when you try to tow your trailer.
The heavier your camper trailer weight is, the more fuel you will need to consume. But you can try to save as much as you can by buying a travel trailer that is just large enough for all your needs.
Conclusion
Every rig owner must know the answer to the question "how much does a travel trailer weigh?" as it can affect many things about their rig. Make sure to check your trailer's specifications and know the average camper weight to choose the most suitable travel trailer for yourself.
Were you able to understand and learn about the average travel trailer weight through this article? Let us know your thoughts in the comments down below.
"Hi, I'm Francis' husband—Calvin. Our story began with our shared passion for traveling. I have had a career journey for over 11 years at Ford Motor Company, where I took on the role of BMS SW Process Engineer.
Together with my wife, I have dedicated countless hours to exploring every nook and corner of the world. Ten years living in an RV may seem long, but time seems to fly by when I'm doing what I love with the person I love. 
That's why I am also a member of FMCA and have been a panelist on seminars at shows like FMCA's 103rd International Convention & RV Expo in Gillette, WY, where I can showcase my adaptability and expertise.
Like my wife, I hope to help you see the beauty of traveling off the beaten path by sharing insights into this lifestyle. In addition to my corporate roles, I also launched our website – Outdoorbits, in 2015 and continue to contribute my knowledge and skills to the present day. And I'll be completely honest with you—no hiding the truth or sugarcoating the possible challenges. 
So, if you want to run away from the busy lifestyle to embrace nature, I'm your guy."