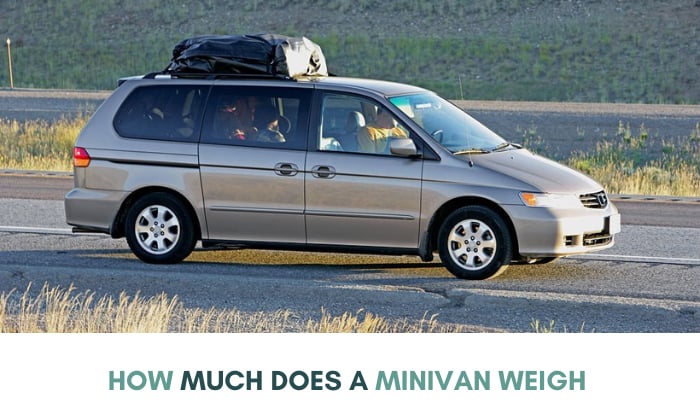 You're driving around town with your minivan and come across a sign that advises you to practice caution because of a maximum weight limit.
Thus, it makes you ask, how much does a minivan weigh? It's important to know your minivan's weight to reduce the risks of accidents on the road.
What is the Average Weight of a Minivan
Minivans weigh 4,522 lbs on average. Take note that the weight range differs for each make and model.
Take the Toyota Sienna as an example; this minivan hasn't received significant updates since its release in 2010. The Japanese automotive manufacturer released five models for the Sienna for each iteration. These trims are:
L: 4,430 lbs
LE: 4,655 lbs
SE: 4605 lbs
XLE: 4,750 lbs
Limited: 4,750 lbs
Upon looking at the data, the average weight of the Sienna is 4,638 lbs. The 2021 model even has a weight range of 4,610 to 4,725 lbs across its trims. With these numbers, this vehicle is slightly heavier than other minivans on the market.
Another example is the Chrysler Pacifica as it has an average weight of 4,658 lbs. This minivan has two major classifications: non-hybrid and hybrid trims. Its non-hybrid trims have an average weight of 4,330 lbs while the hybrid models are 4,987 lbs.
Moreover, most minivans weigh more than sedans. It makes sense because minivans have constructions and designs made for carrying more load than sedans.
How Do You Find the Weight of a Minivan
Before proceeding, it's not advisable to place a car on top of a kitchen or bathroom scale. The small device isn't durable enough to withstand the weight of a vehicle. Instead, use dedicated vehicle weighing equipment to help you find out the weight of your minivan.
Also called truck scales, weighbridges are dedicated weighing devices for large vehicles. You can park your minivan on this device to show the overall weight.
Parked vehicles can also use weighbridges to figure out the weight of the contents. This large device is excellent for performing quick and accurate vehicle measurements for minivans and other vehicles.
Take note that you can install weighbridges provided that you have sufficient space for one. The average dimensions of a standard weighbridge are 15m x 3m. In comparison, the average dimensions of a one-car garage are 3.6m x 6m.
Therefore, most weighbridges are ideal in commercial settings rather than at home.
As its name implies, axle weigh pads help identify vehicles' weights while supporting their axles. These devices are ideal for at-home use, considering their reasonably portable constructions.
However, using these weigh pads requires optimal balance from your minivan. Otherwise, the weight readings can be inaccurate.
Still, axle weigh pads are excellent choices for minivan owners traveling frequently. You can conveniently store the pads in your vehicle's storage and use them when needed.
Additionally, axle weigh pads are more accessible than weighbridges. You can search for axle weighing pads online and have the products shipped to your home.
Although weight indicators aren't dedicated vehicle-weighing devices, they still deserve a spot in this list because of their supplementary nature. Weight indicators can connect to compatible weighbridges or axle pads to give minivan owners accurate weight details.
High-quality weight indicators can even connect to multiple minivans weighing devices at once. Some models also have high-resolution screens to check vehicle weights from afar.
What is the Heaviest Minivan
The heaviest minivan also has the best fuel efficiency in its class: the 2020 Chrysler Pacifica Hybrid. This vehicle weighs 4,987 lbs. However, it still manages to achieve 82 MPGe, thanks to its hybrid + electric mode.
How Much Weight Can a Minivan Carry
Remember, the weight of a minivan is different than the weight it can carry. Most, if not all minivans will have maximum payloads lower than the vehicles' overall weight.
With that said, the average weight minivans can carry is 1,609 lbs. In other words, you can safely put about eight adult American males or ten American females in minivans without exceeding the vehicles' maximum payloads.
What are the Other Types of Vans and How Much Do They Weigh
The minivan is one of many classifications of vans. With that in mind, how does a minivan's weight compare to the other types of vans?
1. Medium Vans
Slightly larger and heavier than small or minivans, medium vans have dimensions and weights between minivans and large vans. These vehicles are ideal for people who need more storage space than minivans but don't want the heft of larger models.
Medium vans, like the Ford Transit Custom, have a weight range of 5,952 to 7,330 lbs across different models. Also, camper and medium panel vans are part of this vehicle category.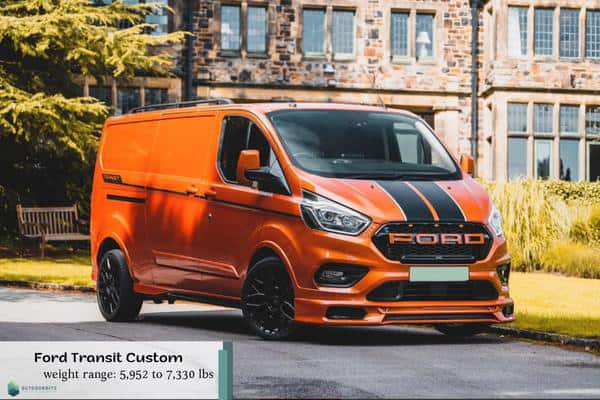 2. Large Vans
As the name implies, large vans offer even more storage space than medium or small vans. These vehicles offer excellent value for their optimal payload space.
Large vans also have a long wheelbase (LWB) for smooth drives because of the wider space between axles.
One example of this vehicle category is the Mercedes-Benz Sprinter. At its lightest model, this van has a gross vehicle weight (GVW) of 7,826 lbs. Furthermore, the largest variant of the Sprinter weighs 11,023 lbs.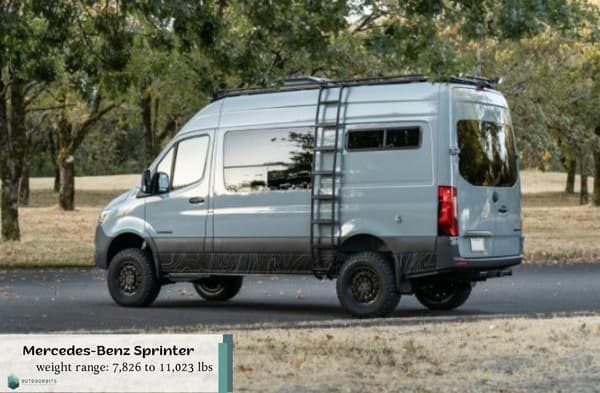 3. Crew Vans
Crew vans often have similar designs, dimensions, and weights to minivans. Some vehicles in this category have folding chairs to allow improved stowage.
One example is the Renault Trafic, specifically its Pro+ model. This vehicle has a weight range of 6,393 to 6,636 lbs. The Trafic also has a maximum payload of 2,723 to 2,808 pounds, the average total weight of eight adult American males.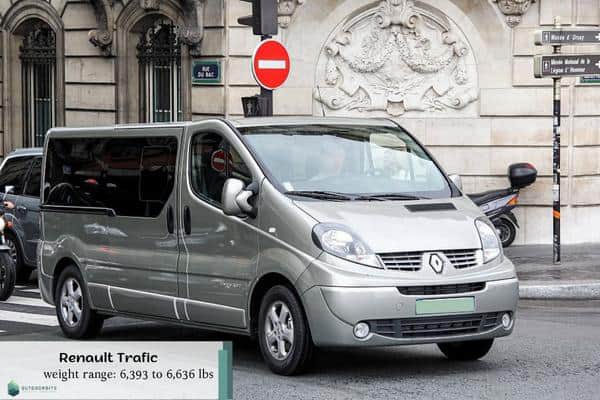 4. Box Vans
Box vans have enclosed bodies with tall, box-like cargo bays (hence the name). These vans have separate cabs and are generally broader than medium or minivans.
One example of a box van is the Peugeot Boxer, specifically the Boxer 333 2+i.oHDi 157 L1H2 model. This vehicle has a GVW of 7,275 lbs and a maximum payload of 3,064 lbs.
It's also a favorite in the commercial space for deliveries. The box-shaped cargo bay makes it convenient to deliver large or bulky parcels to different places.
5. Camper Conversion Vans
While not technically a distinct vans, camper vans are conversions of other vehicles in other van categories. Conversion kits are available for compatible vans, allowing van owners to enjoy and experience homes on wheels.
An example of camper conversion vans is the Vauxhall Vivaro, specifically the 2700 2.0 CDTi 115 l/r model. This van has a GVW of 6,107 lbs and a maximum payload of 2,425 lbs.
This camper van also has superior towing prowess, considering it can pull up to 4,409 lbs.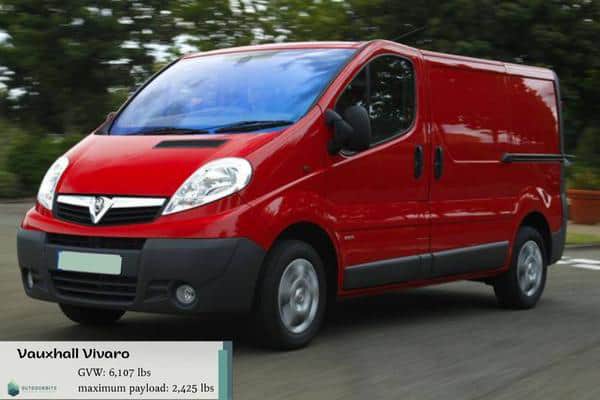 Still confused? Watching this video.
Final Words
How much does a minivan weigh? Minivans have an average weight of 4,522 lbs. However, that number can increase or decrease depending on the minivan's make or model. Minivan owners can identify their vehicles' weights using equipment like weighbridges and axle weighing pads.
Also, understand that different types of vans also have varying GVWs and maximum payloads. Knowing these pieces of information can help you in your search for your ideal minivan.
"Hi, I'm Francis' husband—Calvin. Our story began with our shared passion for traveling. I have had a career journey for over 11 years at Ford Motor Company, where I took on the role of BMS SW Process Engineer.
Together with my wife, I have dedicated countless hours to exploring every nook and corner of the world. Ten years living in an RV may seem long, but time seems to fly by when I'm doing what I love with the person I love. 
That's why I am also a member of FMCA and have been a panelist on seminars at shows like FMCA's 103rd International Convention & RV Expo in Gillette, WY, where I can showcase my adaptability and expertise.
Like my wife, I hope to help you see the beauty of traveling off the beaten path by sharing insights into this lifestyle. In addition to my corporate roles, I also launched our website – Outdoorbits, in 2015 and continue to contribute my knowledge and skills to the present day. And I'll be completely honest with you—no hiding the truth or sugarcoating the possible challenges. 
So, if you want to run away from the busy lifestyle to embrace nature, I'm your guy."