Perhaps you're new to being an RVer and you want to enjoy a good barbecue while you're on the road. But you need to connect the propane tank to grill to achieve that goal. But now you're wondering how to connect gas grill to RV without breaking the bank.
Take note that you don't need expensive equipment to complete this project. Assuming that you already have a gas grill, you only need to gather a few tools to help you complete this project.
3 Simple Steps to Connect Gas Grill to RV
What You'll Need
Completing this project only requires you to gather two things: an LP quick connect and an LP hose.
1. LP quick connect
The RV gas grill quick connect part is generally for a low-pressure propane grill. It's a regulating component that helps prevent the device from producing excessive amounts of gas.
These low-pressure quick-release couplings not only work for gas grills for RVs but will also work with various industrial applications wherein high working pressure may or may not be a requirement.
Some gas grills already have RV propane grill quick-connect components. If you don't have a propane grill yet, consider finding a kit with this component to help you save money.
2. LP hose
This part is essential to connect a gas grill to an RV. You can find models that are about 24 inches in length. Some options are longer, which offer more value but tend to be more expensive than their shorter counterparts.
Additionally, make sure that the hose is compatible with your LP quick-connect component. Bring the quick connect part to a local LP hose retailer if you're having difficulty looking for an appropriate model.
Aside from these two primary items, you may need to use wrenches to help secure the connection. Size 7/16, 9/16, and 3/8 wrenches tend to be ideal for this project.
Step-by-Step Instructions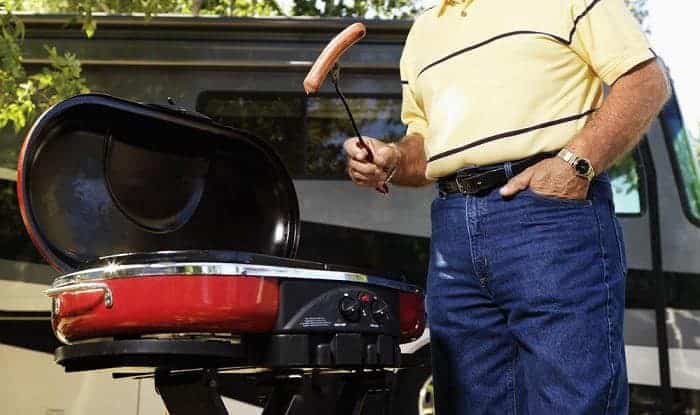 After gathering the two items mentioned above, you can now proceed by connecting your gas grill to the RV. Take the time to follow each step. Doing each part of the process hurriedly exposes you to safety hazards.
Step 1: Connect the Hose to the Quick Connect Valve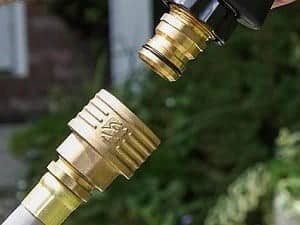 First, take note of the two sides of the LP hose. This product should have a valve on one end, which helps you start or stop the gas supply from your RV.
Remove the dust cover from the end of the LP hose that doesn't have the valve. Connect that end of the hose to your RV's gas valve. Also, make sure that the supply of gas from your RV is off while you're doing this step.
Step 2: Attach the Hose to the Grill
Attach the LP quick-connect component to the other end of the hose. Then, attach the hose with the quick connect part to the grill's connector.
Take note that the hose's size should have the right measurements to fit the adaptors on the quick connect component and the RV's gas grill adapter. Otherwise, leakage can become an issue, which can primarily cause motorhome and travel trailer fires.
Step 3: Test the Connection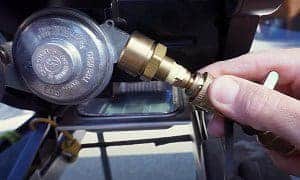 After making both connections, turn the gas on from your RV. Check if the gas passes through the hose without leaking. You may also try to cook a dish or two while you're at it.
If you notice leaking, check the hose and connectors for issues. Ask yourself probing questions, such as 'Did I seal the connection properly,' or 'Is the hose the right size for the connectors?'
Turn off the gas immediately if you find leakage. Prolonged gas usage with leaks can end in devastating results.
Conclusion
Did you like this guide on how to connect gas grill to RV? You can also share your thoughts and experiences in the comment section.
Remember to gather the necessary parts and tools before attempting to connect your gas grill to the camper, motorhome, or travel trailer. Also, make sure that all pieces fit properly to prevent gas leakage.
Once finished, you should have a setup that's fit for those weekend barbecues while you're camping with your RV. Don't forget to share this article with others so they'll know how to connect their propane grills to their RVs without breaking the bank.
I have dedicated countless hours to exploring every nook and corner of the world. Ten years living in an RV may seem long, but time seems to fly by when I'm doing what I love with the person I love. So, if you want to run away from the busy lifestyle to embrace nature, I'm your guy.