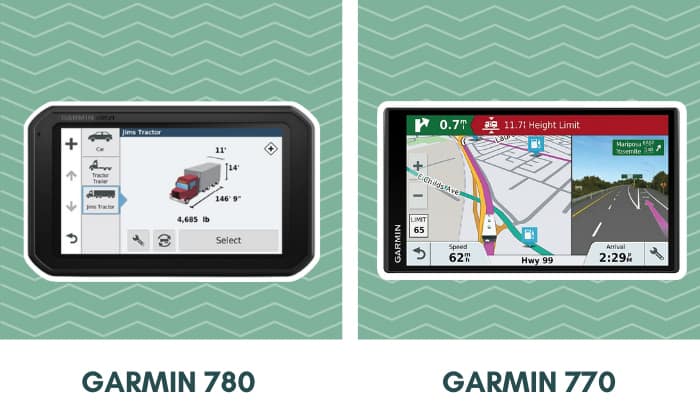 Roads can be pretty unpredictable. Especially when you are driving to a faraway destination, you do not know what surprises it holds for you. Hence, if you are planning to take a long week-long road trip with your family in the RV, or living in one, you better install a Garmin RV GPS. Garmin comes up with the best GPSs out there, which can be mounted on your RV. Here, we are going to take you through a comparative, Garmin 780 vs 770, analysis to help you decide which one you should install.
Why Switch to GPS Technology for Your RV?
Are you wondering why you should have a GPS installed in your RV when there are maps available at almost all gas stations? This is because maps have become outdated, and even the latest editions cannot tell you what a Global Positioning System can. Here are some more reasons why GPS has become the companion of all RV drivers today.
1. It provides you with Up-To-The-Minute Information
Even if you buy a map created in the same month as you are using it, there is no way it will tell about the traffic on the road. Whereas, telling you real-time traffic situations is just the beginning of comprehensive GPS features. All you have to do is to connect your GPS with Wi-Fi and get exploring!
As for the maps created a couple of years ago, you can only imagine how much they lag with the rapid infrastructural development. Hence it is advisable to stick to GPS that knows all new roads, bridges, and more that come up every day.
2. Customized Routes for you RV
It is no surprise that some roads are not meant for bulkier vehicles. So, RV GPS will prompt you to enter all the information about the dimensions and weight of the RV to suggest the best route. These routes are meant to facilitate easy movement of large vehicles so that you are no longer left astray by the map that shows you hope of shortcuts through narrow lanes.
3. GPS makes Navigation a One-Man Job
With maps, it can be pretty tiresome to navigate and drive at the same time. Therefore, you are left at the mercy of the cousin or friend to hold the map for you and be your co-pilot.
With GPS, on the other hand, all you have to do is enter the device's destination and allow it to lead you through the route without much ado.
Speaking of a hassle-free ride, Garmin installation is straightforward.
Now that you know why having RV GPS has become the need of the hour, here is a detailed analysis of similarities and differences between Garmin RV 770 and Garmin RV 780.
Similarities Between the 770 and 780
The similarities between the two models will help you discover what you are not missing out on, no matter which model of the two you install.
1. Active Lane Guidance
Since Garmin designs this range of GPS navigation units, especially for larger vehicles like RVs, trucks, and more, it offers Active Lane Guidance.
Essentially, this feature allows you to discover the routes that will allow easy maneuverability for your RV. To use this feature, you are asked to enter the height, width, and weight of the RV. The GPS devices process this information to figure out roads and lanes that are wide enough and have no weight and height restrictions.
Not just that, GPS will also suggest the lane in which you should keep your vehicle in so that you can hit the expressway directly.
2. Free Map and Traffic Updates for Life
While you can install the cheaper and simpler alternatives to Garmin GPS, you will have to pay for every other update on the maps. On the other hand, with Garmin, you receive lifetime and unlimited access to updated maps and traffic situations.
In the case of models 770 and 780, you can connect them with your home Wi-Fi to download the updates. As for the traffic updates, the receivers embedded in the power cable do the trick.
3. Bluetooth Connectivity
Another great addition to the two models is their ability to connect with your smartphone through Bluetooth to get your calls and notifications while focusing on the way ahead. With this feature, you can use your phone to access the control panel of the GPS, get live locations through your phone, etc.
If you want, you can connect the Garmin GPS devices with your Bluetooth-enabled stereo system to give it voice commands.
4. Make Reverse Parking a Breeze
If you have a reverse camera attached to your vehicle's rear, you can connect it with the satellite navigation system. Now, you won't have to focus on an additional screen when parking in reverse.
5. Touchscreen Controls
Both the Garmin models sport capacitive touchscreens, allowing you to access the device features with just a touch if they are not accessible through voice commands.
6. Power
Both devices are powered by built-in lithium-ion batteries, which will last you for about an hour when completely charged. You won't need the batteries much anyway because the GPS will be plugged in the power socket of the Van. But batteries will come in handy when you want to take the GPS inside to get Wi-Fi access.
7. RV Waypoints
When you are on the road, you can be hit by a million uncertainties, such as you can run out of gas, batteries may drain out, or you can get a flat tire. In such situations, you might want to visit the nearest RV Park. For this, you can use the Waypoints suggested by Garmin GPS devices as they have a directory of over 20,000 RV parks, charging spots, gas stations, and more across North America.
Apart from RV specific locations, the devices allow you to access Foursquare and TripAdvisor databases to check the restaurants' reviews and ratings in your vicinity so that you can make the books before you reach there.
Differences Between the 770 and 780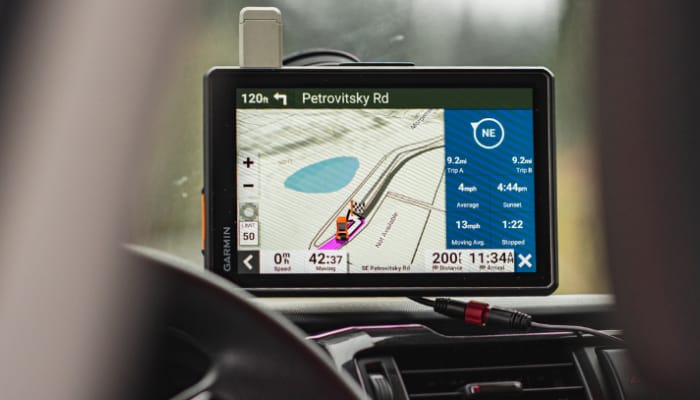 Before you proceed with the differences, know that just because 780 is the latest model. No technology becomes obsolete right after the launch of a new one, and there are merits to 770, which make it a favorite amongst several RV drivers.
1. Price
The Garmin dezl 780 LMT-S Advanced GPS for RVs is a premium quality navigator available at the company website for $399.99. This is an affordable price range if you own a large RV. For those who own a smaller vehicle can opt for a 5-inch version available for $299.99.
As for Garmin RV 770 NA LMT-S GPS, you can find it for $299.99 on its official website. Only the 7-inch version is available.
2. 770 is Garmin Smart Watch Compatible
It is quite common for RV owners to own a Garmin Smart Watch as it is loaded with features that come in handy while camping or trekking. When you connect this smartwatch with your GPS, you can navigate your RV in case you are lost. Plus, it gives real-time traffic updates on your wrist to know the right time to hit the road after a halt.
Unfortunately, 780 does not offer smartwatch compatibility, and it is available in 770 only.
3. 780 Offers Maps in 3D
Looking at maps with lines running all over them can be pretty boring, plus they make it difficult to understand if there is an elevation on the road. So, to make map viewing more interactive and functional, Garmin has enabled the 3D map feature in 780.
You can now use the 3D maps to see all elevations and drops in the terrain better, without any confusion with your RV 780.
The screen ratio of 770 and 780 is also quite different, but that is to give consumers some variation in appearance. Otherwise, everything from the resolution to purpose is the same.
Conclusion
To conclude, both Garmin 780 vs 770 are loaded with the same features, making 780 not an upgrade. Then again, the 3D map-viewing technology appears a bit advanced. So, your decision should be based upon:
Your budget since the 770 will cost you a significant $100 less than the 7-inch version of the 780.

Whether or not you are more inclined towards 3D maps instead of 2D.

The frequency of your trekking and camping trips as connecting GPS to your Garmin Smartwatch can come in handy here.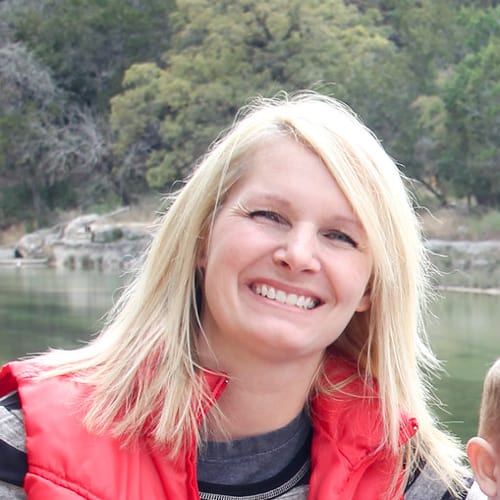 My career journey has been marked by a variety of roles. I served as a Personal Trainer for Children, Fitness Instructor, and Home-Based Consultant in Detroit Wayne Integrated Health Network. 
More than ten years of traveling in my caravan have lent me a deep appreciation of freedom. Without the shackles of being tied down to one place, I get to explore many parts of the world and relish the exhilaration that comes with discovering new things. Throughout my journey, I have been a member of FMCA (Family Motor Coach Association) since 2020. Thus, living on the road has never become boring for me.
As someone with a burning passion for traveling, I want to inspire others to adopt a nomad lifestyle to appreciate the beauty of the world. This, of course, requires a functioning vehicle that can always make you feel at home, even when you're far away from modern life.
Therefore, I seek to put my experience to good use—helping you with your adventure on the road. As a result, I launched and managed the Outdoorbits website, where I likely share my enthusiasm for outdoor activities and health-related insights.