RV is where living and traveling coexist — you have living accommodations available to you anytime and anywhere. However, your RV power source isn't the same as the one that gives life to a traditional home. That's where generators come in.
Generators come in different sizes, and you need one with enough power to make your appliances work. This power varies depending on people's needs — for some, a 3,000 to 3,600-watt generator is enough. In this article, you will learn what size generator for 30 amp RV you should go for.
Generator Size for 30A RV
There are some recreational vehicles (RVs) that already have built-in generators in the compartment underneath the RV. But, how can we know if they are appropriate for a 30 amp travel trailer?
First, you need to find out how many watts a 30-amp RV use. You can calculate the wattage by using Joule-Lenz law (P = IV). Because RVs with a 30A circuit have a 120-volt wire, the watts are calculated as 30A x 120V, which equals 3,600W.
If you are thinking something along the lines of "will a 3500-watt generator run a 30 amp camper," the answer to the question is yes, as long as you don't use more than 3500W at once.
Unless you want to use the generator to power additional things outside of RVing, it is a waste of money to purchase one with a wattage higher than 3,600W.
Why You Should Use Inverter Generators
Let's say you need a quiet RV generator with 30 amps. If this is the case, you should also give some thought to purchasing an inverter generator.
An inverter generator is superior to a conventional generator in terms of the power it generates as well as the level of noise it creates due to the fact that the engine and the inverter are housed within the same unit.
Frequently Asked Questions
What exactly is a 30-amp service?
A 30A service has one 120V wire, three-pronged receptacles, TT-30 plugs, and a 30A breaker.
What generator with 30 amp plug is the most ideal?
These are the best portable 30-amp generator options on the market:
BALDR 330W Power Station For Outdoor Camping
Briggs & Stratton P3000 PowerSmart Quiet RV Generator
Champion 3100-Watt RV-Ready Portable Generator
WEN 56310i-RV Super Quiet 3100-Watt Carb-Compliant RV Generator
Honda EU 3,000 Watt Inverter Generator
Yamaha EF3000iSEB 3000-watt Portable Generator
What can a 30 amp generator run?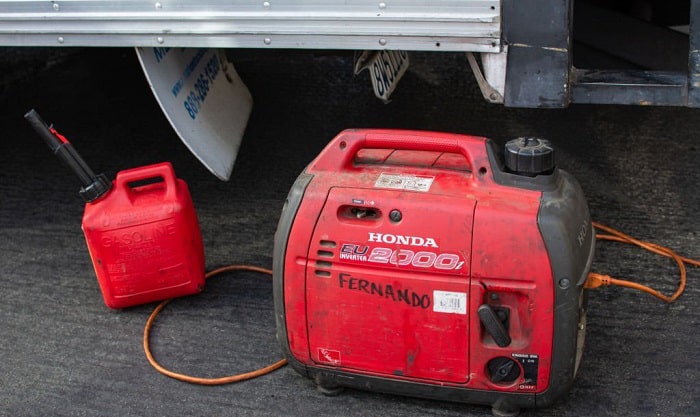 A 30A generator is enough to run appliances and devices such as AC units, heaters, microwaves, coffee makers, electric skillets, toasters, and hairdryers.
Is a 50-amp plug allowed to be used on a 30-amp RV?
Yes, but you will need an adapter. This adapter is easy to find because its shape led many people to call it "dogbone."
Is there any difference between a 30-amp and a 50-amp service?
Yes. A 50A service lets you run more appliances than a 30A service because it has about 12,000W, while a 30A service only has about 3,600W. The 50A service also has two 50A breakers, while the 30A service only has one 30A breaker.
Conclusion
Your needs will determine what size generator for 30 amp RV is needed — this is why you should consider your electrical consumption to purchase the right size of generator for your RV needs.
We hope our article provided helpful information that may help you power up your RV!
I have dedicated countless hours to exploring every nook and corner of the world. Ten years living in an RV may seem long, but time seems to fly by when I'm doing what I love with the person I love. So, if you want to run away from the busy lifestyle to embrace nature, I'm your guy.