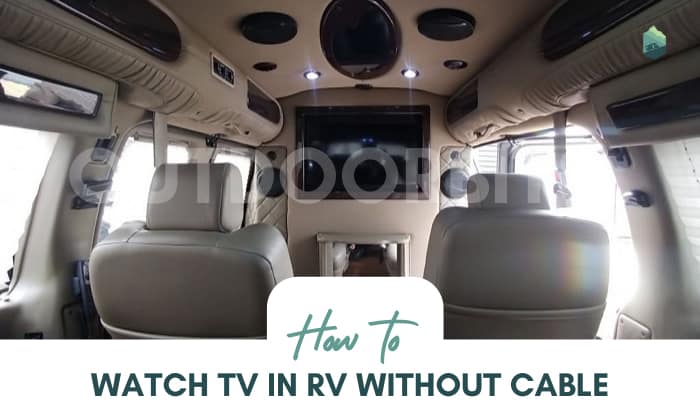 Going down the road means a relaxing adventure outdoors, but it also means missing some shows on your cable TV. To get the best of both worlds, you'll need to learn how to watch TV in RV without cable. Lucky for you that many recent technologies can make it happen.
One way to watch TV while tent camping is to use a satellite dish that offers a variety of channels. You can also use a streaming service app on your smart TV or opt for an over-the-air antenna to watch local channels. If you have plenty of DVDs at home, try to bring your old DVD player to keep you entertained.
Ways to Watch TV In RV Without Cable
Now, let's understand how to set up each option on how to use TV without cable. Choose one that you think is the most convenient for you.
Option 1: Satellite Antennas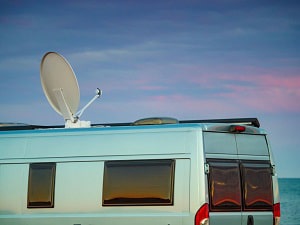 An excellent alternative to get TV in an RV is to use satellite technology. As long as nothing blocks the communication, the connection is pretty reliable. You can subscribe to a trusted satellite TV provider like DirecTV or get free satellite TV for RV.
---
What To Prepare
Satellite dish (preferably a C-Band or linear Ku Band LNB if you want free satellite channels)
RG6 coax cable
Receiver
---
Steps to follow:
1. Find a site where it's clear from any obstructions, including overhead ones.
2. Install the satellite dish. You can put the satellite up on the roof, on the ground, or mount it on a tripod. Most satellite providers include a kit complete with accessories for installation.
3. Connect the satellite to the receiver (the rectangular box) via the coax cable.
4. Connect the receiver to the TV via the HDMI cable.
5. Turn the TV on and the receiver. Follow the prompts shown on the screen.
6. If the signal is poor, adjust the satellite until the image and sounds are clear. For your guidance, you can refer to DishPointer or other similar sites to find the best signal in your area.
---
Offers a full range of channels
Reliable as long as there's no communication interference
Satellite providers may offer a customize channel package
Compatible with all types of TVs
Needs too much work to set up in every location
Satellite TV subscriptions can be expensive
Option 2: Streaming Services
Can I watch Netflix in my camper? Of course, you can watch TV when camping as long as you have reliable internet in the RV park or campground. Even without cable connection, you can still continue watching the program from where you left off.
---
What You'll Need
Smart TV or Android TV
A streaming dongle if you own a non-smart TV (e.g., Amazon Fire Stick, Roku, etc.)
Streaming app of your choice
Internet with a speed of at least 5mbps
---
Steps to follow
1. If you own a smart TV, skip this step. If not, connect the dongle to the TV's HDMI port. Next, plug in the power adapter, turn it on, and follow the instructions on the screen.
2. Connect your smart TV or streaming dongle with Wifi or any available internet in your area.
3. Install your favorite streaming app. You can choose popular apps like Netflix, Disney+, and HBO Max.
4. Once installed, sign in or sign up for an account. In the latter case, pay for your preferred subscription.
5. Choose a show that you like to watch. Enjoy!
---
Stream TV in RV easily
Offers full episodes for binge-watching
Shows no ads
Massive selection of movies, TV shows, and other programs
Can stream HD or 4k quality shows with high-speed internet
Some streaming services let you download content to your device
Needs a subscription fee
Won't work with regular or non-smart TVs
Requires a strong internet connection
Option 3: Over-The-Air Antennas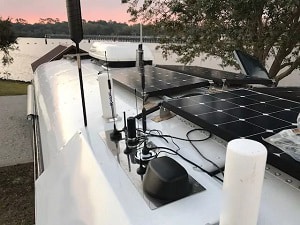 The easiest way to watch TV without cable or wifi is to use an aerial antenna. Some RVs already come with an HDTV antenna, so you only need to scan the available channels on your TV. If not, then you need to get some work done.
---
What You'll Need
Indoor or outdoor antenna
Coax cable (usually comes with indoor antenna)
---
Step-By-Step Instructions
1. Install the antenna on your RV's roof. Other models may come with suction cups to attach to the exterior of your motorhome.
2. Hook up TV to RV antenna with the coax cable. At the back of the TV, look for the coax or HDMI inlet.
3. Once everything's set up, turn the TV on.
4. Use the remote control to scan the channels.
5. Adjust the antenna to get the best signal if necessary.
---
Works with both smart and non-smart TVs
No more costs involved besides the antenna
Requires no internet or monthly subscription
Airs free TV channels
Difficult to find the best TV reception
A limited number of channels
Option 4: Go Old School With DVDs
If you want to stay in a very remote location, you can still watch TV without Wifi. A DVD player is one of the best RV TV options in this regard. You can bring your favorite DVD movies and TV show boxed sets for some quality downtime.
---
What You'll Need
DVD player (or Blu-ray player for better picture quality)
An HDMI cable or AV cables
Steps to follow:
1. Put the DVD player near the TV. Avoid putting the DVD equipment on top of another device or vice versa to prevent overheating from excessive use.
2. Hook up the cables to the right ports or sockets.
3. Modern DVD player models use a single HDMI cable for video and sound. Simply connect each end of the cable to the HDMI ports of the DVD player and TV.
4. If you own an older DVD player model, you'll probably be dealing with AV cables. Connect the red and white cables to the L and R audio ports of the DVD player and TV. The red one connects to the video port.
5. Now, power both the DVD player and the TV. Set the right video output for the DVD and load your favorite DVD to start watching.
---
Requires no internet connection
Works on all types of TVs
Smooth playing, no lags and freezes (if the discs aren't severely scratched)
Some DVDs include extras like behind the scenes
Video quality is superb, especially for Blu-ray discs
A bit challenging to install
Frequently Asked Questions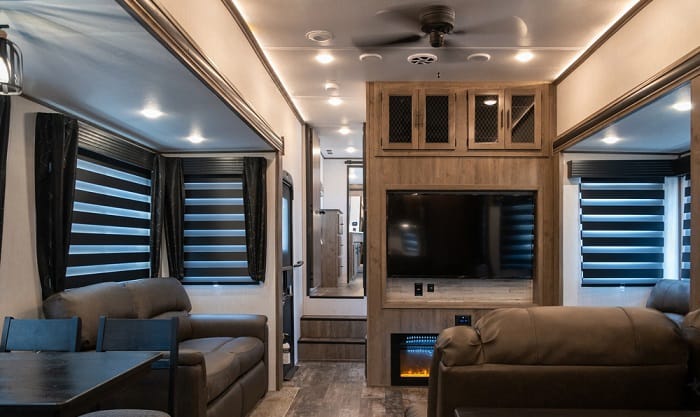 What is the best way to stream TV in an RV?
The best way to watch TV in RV is to use a streaming app like Netflix, Disney+, and Hulu. You can binge-watch many TV shows and movies in different genres. However, if you're going to camp in a place without internet, setting up a satellite dish is an excellent way to watch a wide selection of TV channels without cable.
Can I use a regular TV in an RV?
Yes, you can use a regular TV for your RV, especially if you stay mostly in the campground with shore power. You can still use a regular TV off-grid, but you'll need an inverter or generator to power it.
Modern RV models come equipped with a smart TV to let you get TV without cable. For 12V TVs, there aren't smart models yet, but you can use a streaming dongle for streaming apps.
What kind of TV works in an RV?
Any TV brand or model works in an RV. Your concern should be its voltage power. Do you want a 12-volt TV for your RV battery or a 120-volt TV (regular TV) to plug into shore power? It all depends on your preference.
A 12-volt TV seems to be a perfect TV for RV travelers because it can be used without shore power. Regardless of the power used, make sure that the RV TV connections are secure. Also, look for multiple functions for versatility and ensure that the size fits your space.
Why is my RV TV not picking up channels?
One of the best RV TV antenna hacks is to make adjustments because the wind might have shifted its position. Turn the antenna around until you can find a better signal.
You can also try to mount an external antenna higher to pick a better reception. Place indoor antennas near a window because thick walls can obstruct the signal. Other possible reasons could be a faulty digital tuner, loose cable connections, and a bad amplifier.
Conclusion
At this point, you know how to watch TV in RV without cable. You won't be missing your cable shows even when you're boondocking or camping in lush RV parks. All you need is some wits to make it work.
Of course, you have to consider what you really need. My favorite option is to use a satellite dish because it's not reliant on the internet. I can camp anywhere I want and still watch my favorite shows.
"Hi, I'm Francis' husband—Calvin. Our story began with our shared passion for traveling. I have had a career journey for over 11 years at Ford Motor Company, where I took on the role of BMS SW Process Engineer.
Together with my wife, I have dedicated countless hours to exploring every nook and corner of the world. Ten years living in an RV may seem long, but time seems to fly by when I'm doing what I love with the person I love. 
That's why I am also a member of FMCA and have been a panelist on seminars at shows like FMCA's 103rd International Convention & RV Expo in Gillette, WY, where I can showcase my adaptability and expertise.
Like my wife, I hope to help you see the beauty of traveling off the beaten path by sharing insights into this lifestyle. In addition to my corporate roles, I also launched our website – Outdoorbits, in 2015 and continue to contribute my knowledge and skills to the present day. And I'll be completely honest with you—no hiding the truth or sugarcoating the possible challenges. 
So, if you want to run away from the busy lifestyle to embrace nature, I'm your guy."