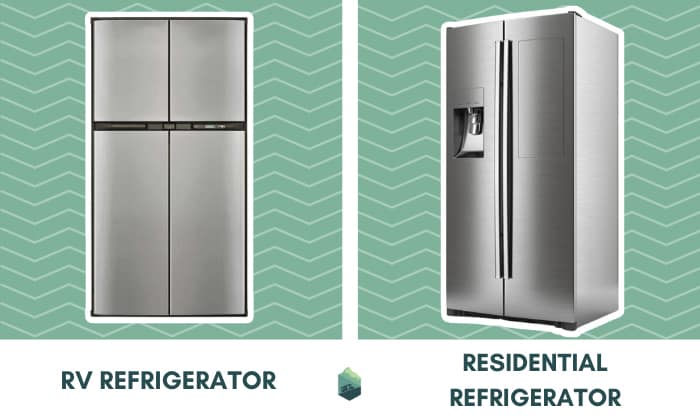 Traveling for a long time in your recreational vehicle means investing in essential accessories to make it more comfortable and relaxing. Long trips require an A.C., a refrigerator, a stove, mattresses and beds, and more. You might have sorted other things but RV refrigerator vs Residential refrigerator might confuse you. The two types of refrigerators are efficient in their ways, but their functionality and purpose differ significantly. Hence, there is a distinct difference between the two, which we will discuss below.
RV Refrigerator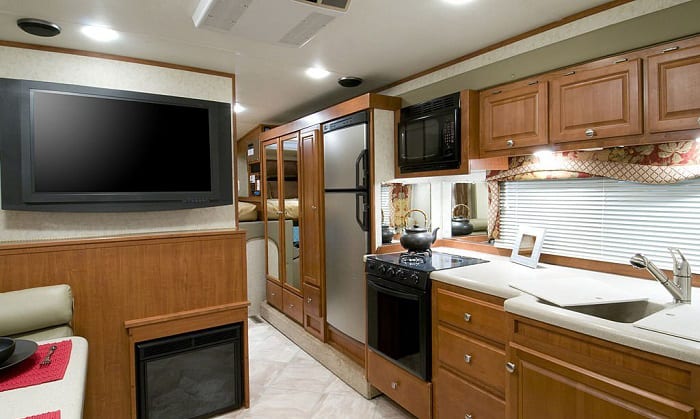 The RV refrigerator was the only type of fridge people were offered when they bought an RV until about ten years ago. Now, however, you can buy an RV with a residential fridge installed. But you will still find RVs that come with the RV refrigerator. If your RV does not have a fridge or the machine needs to be replaced, you can buy Midea's best-selling refrigerator.
The fridge utilizes absorption to keep the inside cool. There aren't any moving parts, such as a compressor, for operating the fridge. It employs heat, and a mixture of ammonia, water, and hydrogen gas to move through the tubes that cool the machine. The heat to power cooling gases can be given by 2 or 3 different power sources in this kind of fridge. Now let us discuss the various aspects of an RV fridge.
1. Storage Space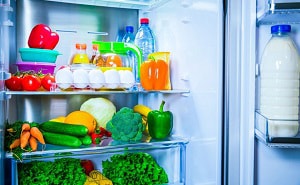 A traditional RV refrigerator has a storage capacity of 6-8 cubic feet. Class B, Class C, and travel trailer RVs are generally sold with smaller refrigerators. You will find that motorhomes and huge 5th wheels boast impressive capacity in their fridges. Newer models feature up to 18 cubic feet of space for storage and French doors. We recommend you to check with the manufacturer for their fridge specifications and request them for a large refrigerator if you want extra storage space.
2. Power Sources
The 2-way RV refrigerators use either LP gas or AC power to heat the gases inside tubes to cool your refrigerator. 2-way refrigerators are the most popular kinds sold in the RVs today. You may also find 3-way fridges that can run on DC power, AC power, or LP gases. They can run off 12V (volt) batteries but aren't as popular as 2-way fridges.
3. Durability
RV refrigerators are made of heavy materials and specifically designed to move around in the vehicle. Such fridges don't have compressors and other moving parts so that they do not loosen while traveling. Many recreational vehicle owners report their RV refrigerators lasting up to 20 years, which is an impressive product life for a fridge.
4. Efficiency
RV refrigerators are designed to utilize AC power, and they use propane gas to keep the inside cool if they aren't connected to the power source. On a pleasant day, the fridge will maintain a decent temperature, while the temperature of the RV fridge may rise on warmer days.
5. Suitability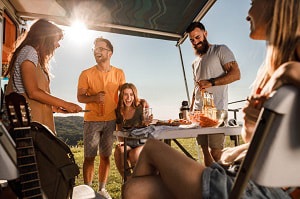 The fridge is suitable for the families who plan to camp for several days with electric hookups available most of the time. They are also ideal for people who like to dry camp occasionally, without investing in a generator or solar panels. They work well for campers who do not require a large storage capacity. Although the models are getting better in terms of space and size, RV fridges are suitable for campers who use their rides for short periods and do not live fulltime on their trip.
The Residential Refrigerator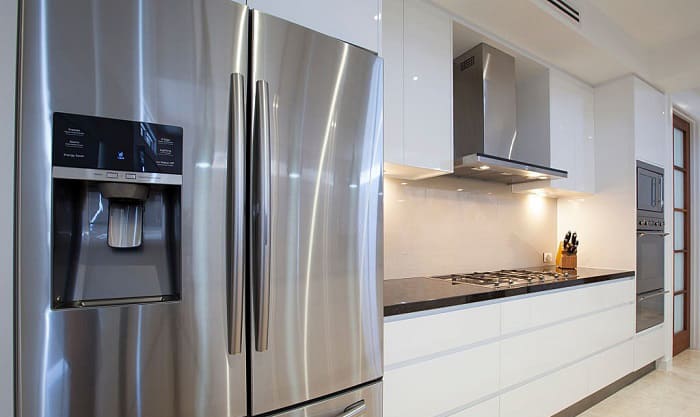 When you are buying an RV, you may come across options with residential fridges installed. These refrigerators use compressors to keep the insides cool and the temperatures low, and require a constant 120V AC power source. Let us learn more about them below.
1. Storage Space
The options will be limitless because you can find a domestic fridge in all sizes and with varying storage capacities. As compared to an RV fridge, the residential refrigerator has more space, which is one reason why campers choose residential refrigerators.
2. Power Source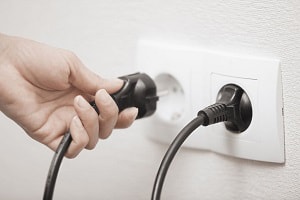 A residential fridge requires 120V (Volt) electricity. If you are camping at a ground with 50 Amp electric hookup, this wouldn't be a problem. But if you wish to dry camp for any period, having an alternate power source is crucial.
New RVs that feature a residential refrigerator need to have an extra inverter and battery pack installed. The inverter changes the 12V battery charge into 120V power that the fridge uses when the ride is unplugged. This feature keeps the food fresh and cool when you are driving.
Additionally, generators and solar panels act as power sources for residential fridges when they are unplugged. However, you will have to calculate the amount of energy required to keep your refrigerator running. Then, you will have to purchase energy sources accordingly.
3. Durability
Residential refrigerators are not designed to remain intact on the road for a long time. All the bumping will eventually affect the fridge's life because there are many parts inside that can get damaged due to bumps. The average life of a residential fridge is up to 15 years, due to all the movement, it is less one in an RV.
4. Efficiency
Residential refrigerators keep food cool always, and their freezers keep frozen foods solidly frozen. When the fridge is not connected to the power source, it can take longer to warm up. But it maintains its temperature well. So, between RV refrigerator and Residential refrigerator, a residential refrigerator is more efficient.
5. Suitability
RV users who wish to live in their ride for an extended period should consider a residential refrigerator. Campers who don't mind investing a bit more initially in extra power sources like a generator, solar panels, batteries, or an inverter may choose the residential one. Lastly, a large group or family who require extra storage space while camping also wants this version.
Pros And Cons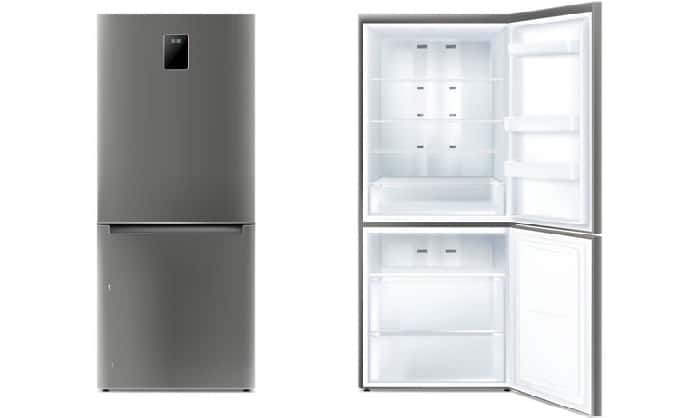 Here is a summary of the pros and cons of RV refrigerators Vs. Residential refrigerators are based on the factors discussed above. These may help you in deciding which fridge would be right for your RV. We recommend you to invest in an RV with the kind of fridge you want if you are purchasing the ride
1. RV Fridge
Cons
Smaller capacity
High-priced product
Less efficient in keeping food cold
2. Residential Fridge
Pros
Large space availability
Variety of choices
More efficient in keeping food cold
Affordable price
Cons
Less durable
Require a constant source of power or electricity
Higher maintenance cost
Requires accessories
Which is a Better Choice?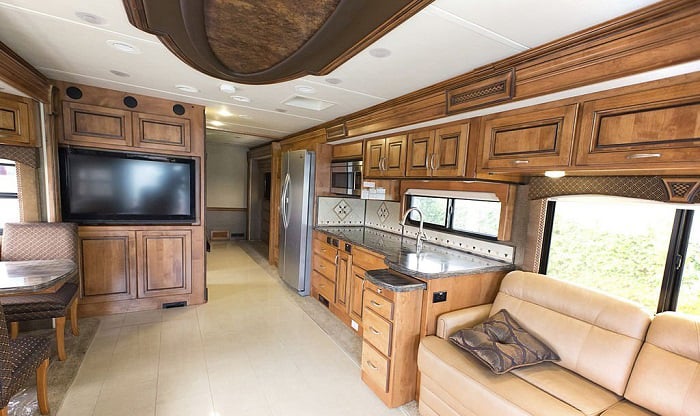 Your choice from the two options will depend upon your usage, storage requirement, camping site, and budget. Although RV fridges tend to be more expensive than residential ones, they are more sturdy and have multiple power options.
On the other hand, a residential fridge has only one power source and needs an inverter to work on 12V power, which is a huge concern if you want it for dry camping. However, with generators, solar panels, and battery banks, this problem is resolved.
Residential fridges also have loose parts, which can get damaged due to jerks while driving your RV. Moreover, if you want more storage, you can buy a bigger RV fridge. However, a residential fridge is more efficient in keeping your food chilled. It is better at maintaining the temperature as well. But their product life is shorter in comparison to RV refrigerators.
Conclusion
It is essential to have a refrigerator in your RV if you are camping for a few days or months. While comparing RV refrigerator Vs Residential refrigerator, it is difficult to point out which one is a winner. People who live inside their RVs with electricity supply choose to install a residential refrigerator.
Meanwhile, campers who stay at places without a constant power supply will go for an RV refrigerator. The main differences between the two are mainly: power source, storage capacity, efficiency, life, and durability.
Another guide you can refer to remove an RV fridge.
I have dedicated countless hours to exploring every nook and corner of the world. Ten years living in an RV may seem long, but time seems to fly by when I'm doing what I love with the person I love. So, if you want to run away from the busy lifestyle to embrace nature, I'm your guy.