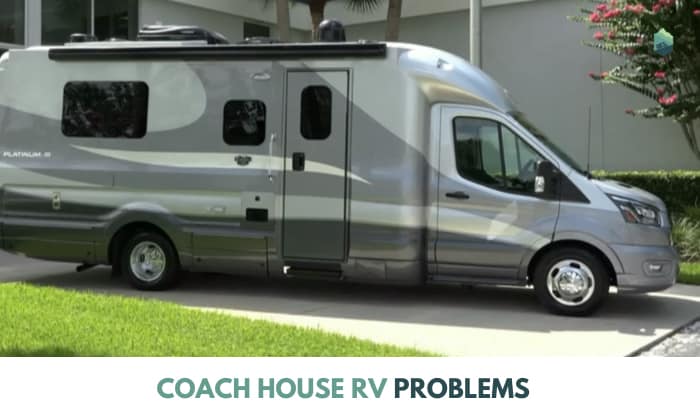 It might be hard to believe that Coach House RV problems exist, since the brand is a well-known manufacturer of top-of-the-line Class B+ recreational vehicles. Unfortunately, they do.
From electrical to plumbing, slide-out operation, and temperature control, problems can dent a well-planned RVing adventure. Knowing the common issues and how to fix them should factor in your Coach House RV buying decision.
Read on.
| | |
| --- | --- |
| Problem | How to solve |
| Electrical appliances, outlets, and wires | Replace damaged or faulty components |
| Plumbing | Unclog pipes and seal up leaks. Winterize the RV as necessary. |
| Slideout | Remove obstructions and dirt from slideout tracks. Replace worn-out seals. Tighten connections and replace broken wiring. |
| Cooling and heating | Set the thermostat to your desired temperature. Replace broken wiring, filters, and other components. Clear the ducts and vents of blockage. |
Coach House RV Issues and Troubleshooting
We analyzed Coach House RV owner reviews to provide a more accurate picture of the problems plaguing this Class B motorhome brand.
 1. Electrical issues
Few RV brands don't have electrical issues, if any. Unfortunately, Coach House RVs have some electricity-related concerns.
For example, older models might not feature USB charging outlets, making it inconvenient to keep mobile devices charged. Power outage is also a concern, and so is age-related electrical wire deterioration. Battery problems can also complicate matters.
Troubleshooting  
Inspect all electrical components, including wires, connections, breakers, fuses, batteries, and battery terminals. Note signs of corrosion, deformities, and looseness. Remove and replace damaged units.
Assess the fuse for loss of integrity and replace blown units. Reset breakers if they tripped.
Buy a USB hub to facilitate more efficient mobile device charging.
2. Problems with the plumbing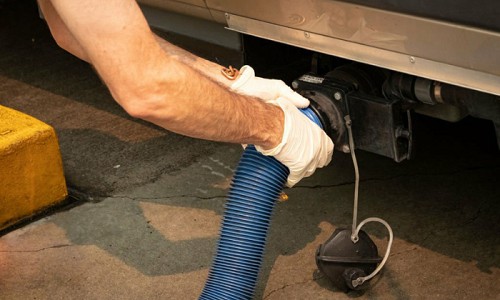 Water leaks and plumbing system blockage are not exclusive to Coach House RVs. Almost every recreational vehicle has this issue, especially with age and disuse. RV toilet and black water drain pipe clogging are common.
Troubleshooting
Assess the drain pipe and RV toilet for obstruction. You can pour hot water to "melt" the clogged material (mostly tissue) or some other method.
Check the pipes for leaks and determine if a DIY fix is possible. If so, you can apply sealant to prevent the water from dripping. Otherwise, an RV plumber might be necessary.
Pour antifreeze into the gray water tank to prevent frozen pipes when traveling to cold destinations.
3. Slide-out concerns
Some Coach House RV owners consider a failing slide-out motor and misaligned tracks indicators of RV quality issues. You can also add inconsistent slide-out extension and retraction to these problems.
Troubleshooting
Check the slide-out grooves for any obstruction, such as excessive grease, dust, tiny rocks, small objects, particles, and dirt. Remove obstacles, ensuring the tracks are spotless.
Inspect the seals or weatherstripping for wear and tear or other signs of damage. Replace these components, then lubricate the moving components of the slideout.
Assess the slide-out motor's function, including its wires, connections, and power source. Tighten loose connections, replace damaged wires, and check the motor's electrical power.
If none of these actions solves the slide-out issue, a Coach House RV service consultation should help you determine the real problem.
4. Issues with the cooling and heating system
Nobody wants to travel in an uncomfortable vehicle — profuse sweating when it's hot and freezing like a popsicle when in a cold place. Unfortunately, Coach House RVs aren't immune to airflow, thermostat, and other heating/cooling system issues.
Troubleshooting
Assess the RV's heating and cooling system components, including filters, thermostats, controllers, and wires. Note any sign of wear, breakage, or damage. Replace broken parts.
Inspect the vents, ductwork, and other airflow components for obstructions. Remove these blockages and clean the interior surface.
Check the temperature regulator or thermostat settings, ensuring the "ideal" levels.
Consider a professional inspection and diagnosis to fix persistent cooling and heating system problems.
How Do Most Coach House RV Users Feel?
Below are some Coach House RV reviews from the brand's customers.
Coach House RVs are a lovely little van with a modern home's comforts.
This RV brand is the highest-quality and best-built B+ RV type, with a unique one-piece coach-style body construction. Generally low wind noise and good handling
Exceptional quality, especially Coach House RV's one-shell design. Ride quality is superb and roof leaks are never an issue.
Conclusion
No recreational vehicle is flawless. So, Coach House RV problems shouldn't be surprising. It's worth pointing out that the brand's downsides are less significant and less serious than the problems of other RV manufacturers, making Coach House RVs a worthy investment.
Go ahead and buy this RV brand. Even a second-hand unit will still be better than the brand-new offering of some companies.
"Hi, I'm Francis' husband—Calvin. Our story began with our shared passion for traveling. I have had a career journey for over 11 years at Ford Motor Company, where I took on the role of BMS SW Process Engineer.
Together with my wife, I have dedicated countless hours to exploring every nook and corner of the world. Ten years living in an RV may seem long, but time seems to fly by when I'm doing what I love with the person I love. 
That's why I am also a member of FMCA and have been a panelist on seminars at shows like FMCA's 103rd International Convention & RV Expo in Gillette, WY, where I can showcase my adaptability and expertise.
Like my wife, I hope to help you see the beauty of traveling off the beaten path by sharing insights into this lifestyle. In addition to my corporate roles, I also launched our website – Outdoorbits, in 2015 and continue to contribute my knowledge and skills to the present day. And I'll be completely honest with you—no hiding the truth or sugarcoating the possible challenges. 
So, if you want to run away from the busy lifestyle to embrace nature, I'm your guy."