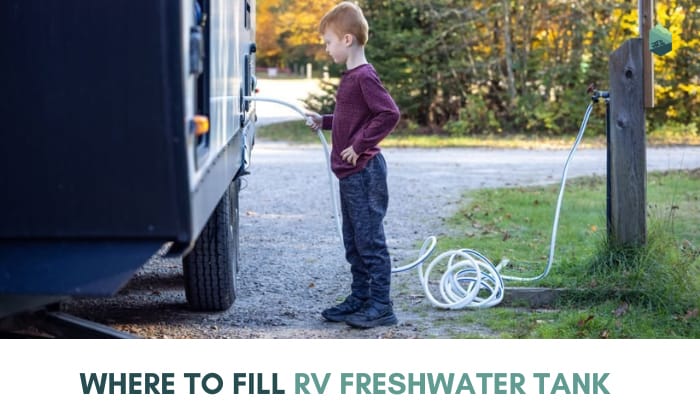 Do you find it tough to search for a spot to fill your RV's fresh water reservoir? Are you a newbie RVer who wants to know where to fill RV freshwater tank? If so, you're now at the right place!
Here, we'll tell you the best spots to fill your motorhome or travel trailer's freshwater container. We put together six of the best locations, plus additional tips and tricks at the end of this article.
So it should be best for you to continue reading and don't stop until the end.
6 Best Locations to Fill Your RV's Freshwater Tank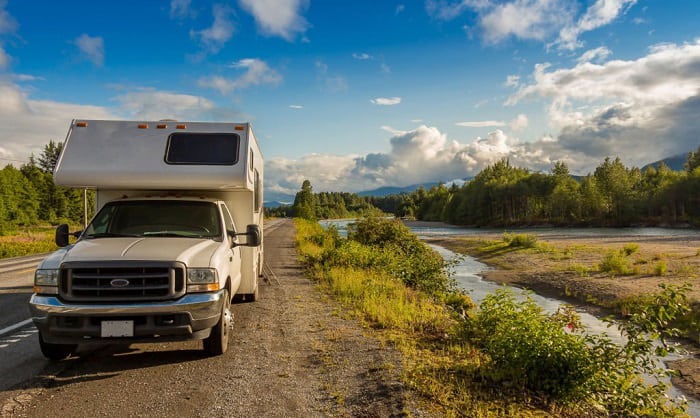 As per an article from USA Today, water hookups to fill RV freshwater tanks are available in different locations, except the most remote or basic campgrounds.
With that said, it's important to plan your trips to ensure you're going to a location that allows freshwater reservoir refills. Additionally, you should create a backup plan, in case the place you're heading to doesn't have a water refilling station immediately available.
After that word of advice, here are the six top places to fill your rig's freshwater tank.
1. RV Parks
A local campground is one of the best places to refill your rig's freshwater container. Many campgrounds offer potable water refilling. Furthermore, the park's service fees tend to include the cost of freshwater refills. Otherwise, you may have to pay a small fee.
Take note that these charges differ for each RV park. Some parks allow daily stay-ins, which generally cost about $10 to $50 per night. But the fees can increase depending on the number of nights you're planning to stay in the area.
However, some RV parks, such as Yellowstone National Park, might need you to drive for several miles before you can reach the camping grounds. Thankfully, freshwater stations are available between the gate and campsites for your convenience.
2. RV Dump Stations
An RV dump station is a safe and sanitary facility, enabling the disposal of wastewater from a motorhome, travel trailer, or other similar vehicles. This facility works by transporting the treated wastewater from the vehicle to a nearby septic or sewer system.
Although primarily used to dump RV wastes, some dump stations also have freshwater refilling stations. Many van life practitioners, RVers, and boondockers use these places to refill their freshwater tanks AND dump sewage.
Don't worry because the waste reservoir is different from where you're going to get your freshwater.
Like RV parks, some wastewater dump stations require payment for freshwater refills. Gratefully, these charges don't break banks.
3. Travel Centers
Also called highway rest areas, these are public spaces located next to a major road or thoroughfare. They allow passengers and drivers to rest and refuel without having to exit the road.
You can find different amenities and features from these roadside rest areas, including convenience stores, scenic overlooks, and RV freshwater refilling stations. Some travel centers even cater specifically to RVers as they also offer dump stations and gas refills.
Travel centers are ideal for stopovers, especially if your next destination is still miles away.
4. Nearby Businesses
If you're in a bind, you can ask local stores for a spigot that you can use. Many business owners will be happy to oblige so you can always have fresh water in your RV.
You can even do the store a kindness by buying the wares from the establishment. Businesses like home improvement stores and bass pro shops have spigots you can use to help refill your RV's freshwater container.
5. Forest Ranger Stations
Are you an RVer that likes to rough it out in different forests? If so, you can ask the nearby ranger station to help refill your rig's freshwater tank.
The ranger can direct you to a nearby water refilling station. Otherwise, the professional can help by connecting the RV's fresh water reservoir to the station's spigot. Like nearby businesses, ranger stations can be ideal for emergency freshwater refilling situations.
6. Water Bottles
Although it's not the best solution (and it's not a freshwater refilling station), water bottles can help solve your rig's lack of freshwater during sticky situations.
The good news is that you can gain access to bottled water in different stores across the country. Plus, if a store doesn't want to give you access to its spigot, you can buy bottled water from the establishment instead.
Tips to Fill an RV Water Tank Without a Hose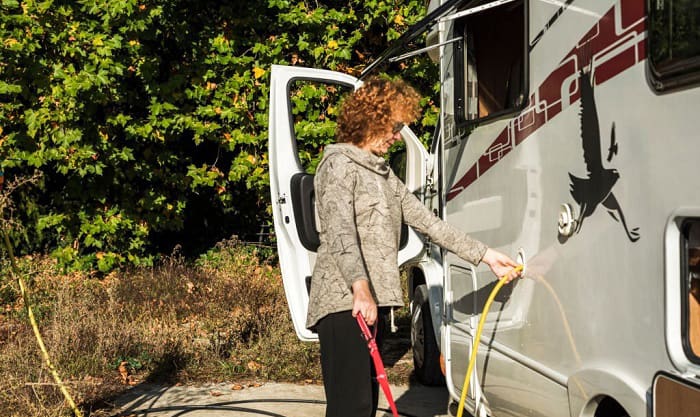 Some newbie RVers might be overconfident because it seems refilling their rig's freshwater system looks easy. However, those thoughts can change when that day arrives.
So, if you're standing beside your RV in a freshwater refilling station, here's how you can refill the rig's water container, particularly if the vehicle has a threaded water tube connection.
Drill pump: You can buy a good model from an online retailer, like this particular model. It works by connecting to your drill to help pump water from the refilling station to your RV.
Tank vent: Although primarily used for air to leave, you can also use it to refill the rig's freshwater reservoir. You only need to remove the mesh and place a plastic funnel over the opening.
Final Words
Congratulations on reaching the end of this guide! By now, you should have a good idea of where to fill RV freshwater tank.
In summary, you can refill your RV's freshwater container in different places. Here's a quick look back at what has been discussed above:
Use the freshwater refilling stations in RV parks, travel centers, and dumping locations
Ask forest ranger stations for directions to the nearest water refilling area
Request nearby stores to use their spigots for freshwater refills
Also, don't forget to educate yourself on how to refill your RV's freshwater container properly. You can use products like a drill pump to help you in that regard.
What did you think about this guide? Do you have any questions to ask or clarifications to impart? If so, feel free to discuss those matters in the comment section.
"Hi, I'm Francis' husband—Calvin. Our story began with our shared passion for traveling. I have had a career journey for over 11 years at Ford Motor Company, where I took on the role of BMS SW Process Engineer.
Together with my wife, I have dedicated countless hours to exploring every nook and corner of the world. Ten years living in an RV may seem long, but time seems to fly by when I'm doing what I love with the person I love. 
That's why I am also a member of FMCA and have been a panelist on seminars at shows like FMCA's 103rd International Convention & RV Expo in Gillette, WY, where I can showcase my adaptability and expertise.
Like my wife, I hope to help you see the beauty of traveling off the beaten path by sharing insights into this lifestyle. In addition to my corporate roles, I also launched our website – Outdoorbits, in 2015 and continue to contribute my knowledge and skills to the present day. And I'll be completely honest with you—no hiding the truth or sugarcoating the possible challenges. 
So, if you want to run away from the busy lifestyle to embrace nature, I'm your guy."