Teleco is an Italian manufacturer of Satellite systems for motorhomes as well as manufacturing Telair motorhome air conditioning systems. Teleco satellite systems are renowned for the low profile FlatSat systems which are less than 17cm tall when in the parked position when fitted.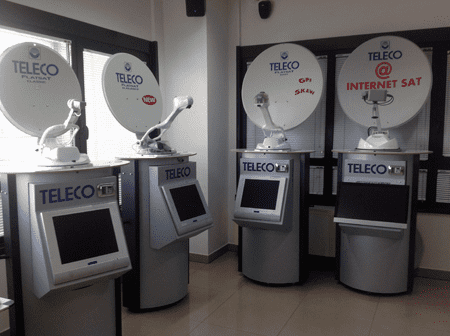 Teleco also manufacturer internet by satellite systems for motorhomes and mobile use. The Teleco Internet Sat is a large 85cm dish with an iLNB and a standard LNB for TV use. The Teleco Internet Sat uses Astra 2 Connect at 23.5E so you will need to get a contract with a supplier on this satellite service in order to use the system online.
All Teleco satellite systems come with a 3 Year warranty.
FlatSat Classic BT Smart 50cm
FlatSat Easy BT Smart 65cm
FlatSat Easy BT Smart 85cm
FlatSat Skew Easy BT Smart 85cm
Teleco FlatSat Easy SMART BT85 85cm Autoskew Intelsat
FLATSATSKEWBT85TWINTelesat BT65 Twin LNB Satellite Systems
Telesat BT85 Twin LNB Satellite Systems