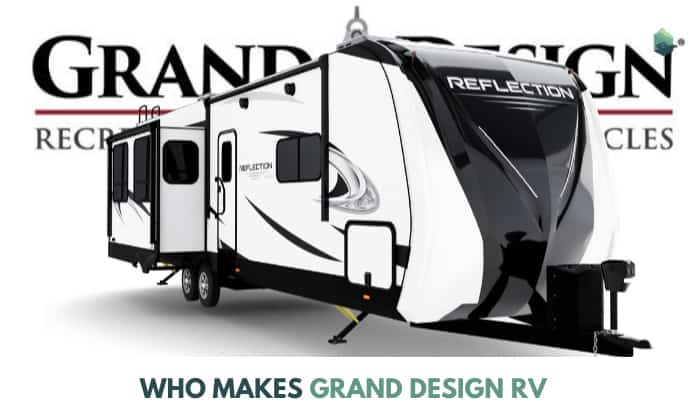 The RVing community loves Grand Design's impeccable customer service, dependable construction, and unparalleled pre-delivery inspection activities to deliver some of the world's most enduring and sought-after RVs. But have you wondered who makes Grand Design RV units?
Although Winnebago now owns Grand Design RV, the brand retains full control of its design, production, and post-production programs and activities. Hence, prospective Grand Design RV owners can expect only the best.
Here's the inside scoop on this RV rock star.
The History and Background of Grand Design RV
Grand Design RV is the brainchild of three former Keystone RV professionals who sought to make better-quality RVs packed with advanced features and luxury amenities supported by a highly dedicated after-sales customer service team and an equally committed dealer network.
Ron Fenech, Bill Fenech, and Don Clark combined their more than eight decades of RV industry experience to create one of the most trusted and beloved RV brands.
2012 – Summit Partner

In 2012, Grand Design RV received substantial financial backing from Summit Partners, allowing the trio and their team of RV designers to evaluate the feasibility of expanding the business to travel trailers.
It's worth mentioning that Grand Design RV initially produced and offered towable 5th wheels. Summit Partners' entry into the picture enabled the manufacturer to deliver at least 25 thousand premium-quality travel trailers, fifth wheels, and toy haulers within four years.
2015 – Industry's Top-tier
In 2015, Grand Design posted its most robust year-on-year growth of 80%, generating $428 million. Its EBITDA (earnings before interest, taxes, depreciation, and amortization) was 14% above projections, making the Grand Design manufacturer one of the industry's top-tier players.
Unsurprisingly, Grand Design RV's meteoric rise in the competitive RV industry caught the attention of one of the world's leading RV brands – Winnebago.
Winnebago's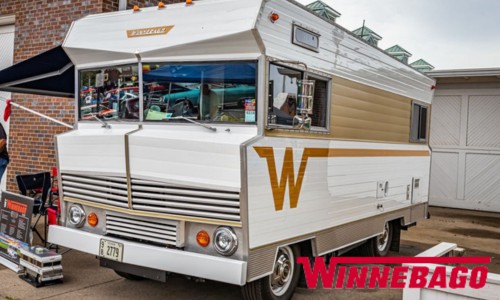 After all, who wouldn't be surprised at Grand Design's astonishing pace, given its four-year-old foray into the industry around the time the brand caught Winnebago's interest?
Ownership Details of Grand Design RV
So, who owns Grand Design RV Company now? That would be Winnebago.
2016 – Winnebago Bought the Brand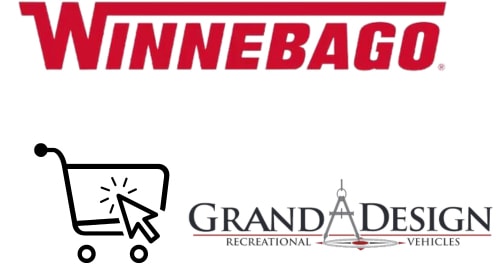 In November 2016, Eden Prairie, Minnesota-headquartered Winnebago Industries bought Grand Design RV for about $500 million.
The deal also included access to Winnebago shares at the New York Stock Exchange, a $300 million term for seven years, and a JP Morgan Chase-brokered $125 million asset-derived lending program.
Retaining Full Operational and Brand Management Control
The icing on the cake is the provision that Grand Design RV retains full operational and brand management control. People believe that Winnebago doesn't want to mess with Grand Design's winning formula, considering it's only four years old at the time of the purchase.
Don Clark Stays
Although Bill and Ron Fenech left Grand Design, Don Clark remained at the company's helm. It's worth noting the Fenechs and Clark parted ways on excellent terms, allowing the two to pursue a different adventure.
Clark still oversees product research, design, and development to offer aspiring RV owners more innovative fifth wheels, toy haulers, and travel trailers. Surprisingly, the brand never ventured into motorhomes, campers, and similar RVs.
About Winnebago Industries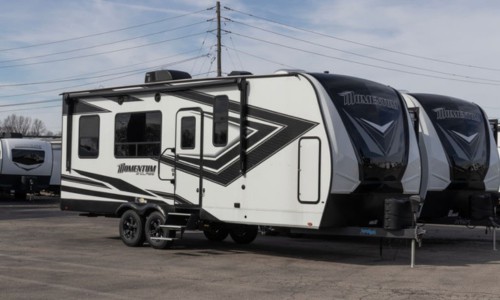 Grand Design RV's new owner isn't a newcomer in the industry. Winnebago Industries had its roots in 1958 in Winnebago County, Iowa.
Winnebago has production facilities in Middlebury, Indiana, Waverly, Forest City, Charles City, and Lake Mills in Iowa. By 2017, Winnebago moved its corporate headquarters to Eden Prairie, Minnesota.
Besides acquiring Grand Design RV in 2016, Winnebago also purchased Newmar in 2019. The deal expanded the RV manufacturer's reach into the luxury RV market.
For its part, Grand Design RV continues to wow the luxury RV market with its exciting offerings. It has three flagship RVs representing the brand's RV segments: the Momentum luxury toy hauler, the Solitude 5th wheel, and the Reflection travel trailer.
The Solitude is available in two variants, while the Momentum toy hauler has four classes (M-Class, G-Class, 5th wheel toy hauler, and travel trailer toy hauler). Grand Design also offers the Transcend Xplor travel trailer with a dozen floor plans to choose from.
Is Grand Design a Good RV?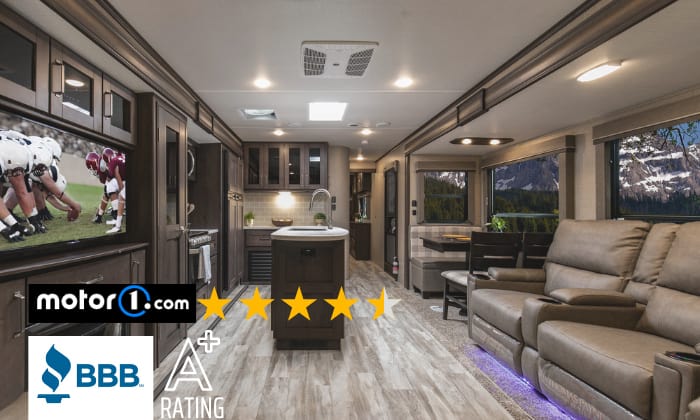 Motor1.com gives Grand Design RV an enviable 4.5 stars out of five, underscoring the brand's unblemished reputation in the competitive fifth wheel, travel trailer, and toy hauler markets.
It earns high marks for its customer-centric approach to after-sales support. The brand's extensive pre-delivery RV inspection and testing is also unheard of, allowing prospective buyers to feel secure and confident with their purchase.
The Better Business Bureau also gives Grand Design RV an A+ rating, further boosting consumer confidence.
And while Grand Design RVs are beyond the financial means of most folks, it's worth noting their recreational vehicles are at the pinnacle of RV technology and design.
Conclusion
We understand why some people ask who makes Grand Design RV. Winnebago's 2016 acquisition of the brand could have confused some folks, leading them to believe the Eden Prairie, Minnesota-headquartered RV brand now makes Grand Design recreational vehicles.
It's worth pointing out that only the ownership changed. Families and individuals can still feel confident and secure that every Grand Design RV they see at dealerships is the ingenious creation of the highly successful team that saw the brand's meteoric rise since 2012.
Also read: Comparision between Alliance RV vs. Grand Design.
"Hi, I'm Francis' husband—Calvin. Our story began with our shared passion for traveling. I have had a career journey for over 11 years at Ford Motor Company, where I took on the role of BMS SW Process Engineer.
Together with my wife, I have dedicated countless hours to exploring every nook and corner of the world. Ten years living in an RV may seem long, but time seems to fly by when I'm doing what I love with the person I love. 
That's why I am also a member of FMCA and have been a panelist on seminars at shows like FMCA's 103rd International Convention & RV Expo in Gillette, WY, where I can showcase my adaptability and expertise.
Like my wife, I hope to help you see the beauty of traveling off the beaten path by sharing insights into this lifestyle. In addition to my corporate roles, I also launched our website – Outdoorbits, in 2015 and continue to contribute my knowledge and skills to the present day. And I'll be completely honest with you—no hiding the truth or sugarcoating the possible challenges. 
So, if you want to run away from the busy lifestyle to embrace nature, I'm your guy."