It is tough to say which tire brand is better, as these two different brands excel in different areas, and the ideal tire brand for one person may not be the best choice for another.
Toyo and Michelin are well-known tire brands offering a wide range of tire products for different types of vehicles.
In this article, we will compare tires between Toyo tires vs Michelin to help you understand the strengths and differences between each brand.
| | | |
| --- | --- | --- |
|   | Toyo Tires | Michelin Tires |
| Origin | Japan | France |
| Founder | Toyo Boseki | Michelin Brothers |
| Tread life | 15 000 up to 60 000 miles | 45 000 to 80 000 miles |
| Rolling resistance | 9.29 | 7.36 |
| Fuel efficiency | Good | Excellent |
| Price | $110 – $850 | $145 – $875 |
What is It?
To begin with, let's have a brief take on the history of Toyo vs Michelin.
Toyo Tires was established in 1945 in Japan and has grown to become among the largest tire manufacturers in the world. In recent years, Toyo Tires has focused on developing tires with low rolling resistance and other features that can help to improve fuel efficiency.
On the other hand, Michelin is a French tire company founded in 1889 by the Michelin brothers. It was also the first to introduce several important tire technologies, such as radial and run-flat tires.
Comparison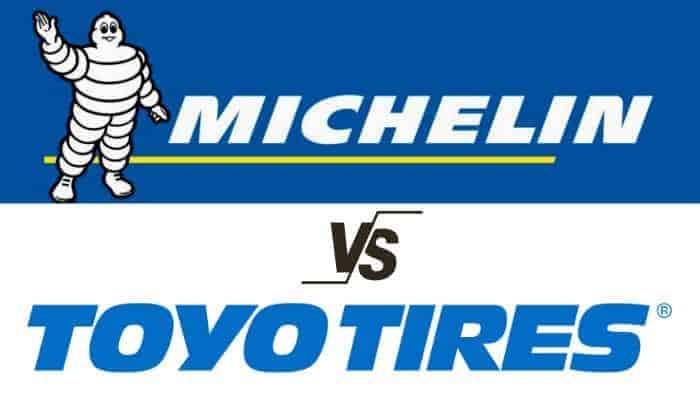 There are some key differences between the two brands, including the types of tires they offer and their characteristics. Let's have a look at the brands' tire family comparison.
1. Toyo Extensa vs Michelin defender
The Toyo Extensa and the Michelin Defender are all-season tires that maintain good traction in wet and dry conditions.
The Extensa can be used with a variety of vehicles, including minivans, CUVs, light trucks, passenger cars, and others. It is well-known for providing comfort throughout a ride.
The Michelin Defender, on the other hand, is well-liked for its silence and comfort. The tire has a really high mileage.
One key difference between the two is their tread life. Michelin Defender is designed to have a longer tread life of about 85,000 miles. The design comes with a symmetrical tread pattern for better wet braking and handling.
On the other hand, Toyo Extensa has an asymmetrical tread pattern designed to provide good traction, but it may not have as long of a tread life as the Michelin. Yet, it is still good for up to 75,000 miles.
2. Toyo open country HT vs Michelin LXT
Both tires are designed for 4×4 cars and SUVs due to them being all-season tires.
Toyo Open Country HT offers good handling on paved roads and off-the-road terrains with its deep center grooves that help channel water away from the vehicle's contact points during periods of heavy rainfall or snowfall.
The Michelin LTX is considered a quiet highway tire with good handling characteristics. The tread pattern consists of interlocking grooves that provide superior traction for cornering and braking on wet surfaces.
In this comparison, the Michelin line seems to be better in terms of wet traction, dry traction, and operation on snow and ice.
3. Toyo Celsius vs Michelin cross climate 2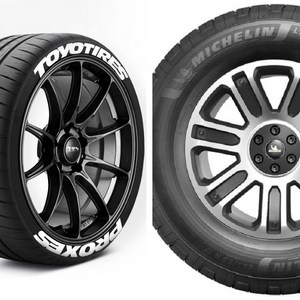 Both tires are good options if you have SUVs, sedans, passenger cars, and CUVs.
The Toyo Celsius is an all-weather tire for better ice and snow traction. The tread is designed to provide a superior grip on wet roads.
The Michelin Cross Climate is an all-season tire designed to maintain traction and stability to perform in every climate condition, ideally when driving in wet, dry, or light snow conditions.
The Differences Between Toyo vs Michelin Tires
1. Cost
When it comes to price comparison, Toyo earns the spot. There are a few reasons why Toyo tires are cheaper than Michelin's.
Production costs: Toyo tires are cheaper because they are produced with less expensive materials.
Different target markets: Toyo and Michelin have different target markets, which could affect the price of their tires. For example, Toyo focuses on offering lower-priced tires to the mass market, while Michelin focuses on offering high-performance tires at a premium price.
Let's take a look at the list of some of the cheapest Toyo tires currently available:
Toyo Open Country A25A
Toyo Celsius
Toyo Extensa HP II
2. Warranty
A Toyo tire mileage warranty is about 45,000 miles. Meanwhile, Michelin has a considerably superior policy as Michelin provides drivers with an 80,000-mileage warranty. However, the specific terms of the mileage warranties vary on the particular tire model.
3. Performance
Both Toyo and Michelin make excellent tires. Let's take a look at their differences when it comes to performance metrics. For example, Toyo Versado Noir vs Michelin, Toyo Versado Noir reached a top rating of 600 in treadwear score, which exceeds most brands' tires on the market.
Regarding Toyo vs Continental, Continental tires are rated somewhat higher (85%) than Toyo tires (66%).
On the other hand, Michelin scored a rating of 82 in the Consumer Reports test in all-season tires. Regarding mileage ratings, Michelin advances to Toyo tires with a mileage rating of 30,000 miles to 70,000 miles or more.
4. Pros and Cons
Toyo Tires
Pros
More affordable
High performance
Durability
Great handling experience
Warranty
Michelin Tires
Pros
High Quality
Excellent Grip
Warranty
Long tread life
Quiet operation
Conclusion
After all the deliberation of this Toyo tires vs Michelin comparison, we have concluded that Toyo is the go-to choice for low-cost yet excellent performance, while Michelin is for premium quality and a smoother handling experience.
Overall, both brands perform well in areas like power and traction. It's hard to recommend one over the other. In the end, the best tire for you will depend on your specific needs.
"Hi, I'm Francis' husband—Calvin. Our story began with our shared passion for traveling. I have had a career journey for over 11 years at Ford Motor Company, where I took on the role of BMS SW Process Engineer.
Together with my wife, I have dedicated countless hours to exploring every nook and corner of the world. Ten years living in an RV may seem long, but time seems to fly by when I'm doing what I love with the person I love. 
That's why I am also a member of FMCA and have been a panelist on seminars at shows like FMCA's 103rd International Convention & RV Expo in Gillette, WY, where I can showcase my adaptability and expertise.
Like my wife, I hope to help you see the beauty of traveling off the beaten path by sharing insights into this lifestyle. In addition to my corporate roles, I also launched our website – Outdoorbits, in 2015 and continue to contribute my knowledge and skills to the present day. And I'll be completely honest with you—no hiding the truth or sugarcoating the possible challenges. 
So, if you want to run away from the busy lifestyle to embrace nature, I'm your guy."