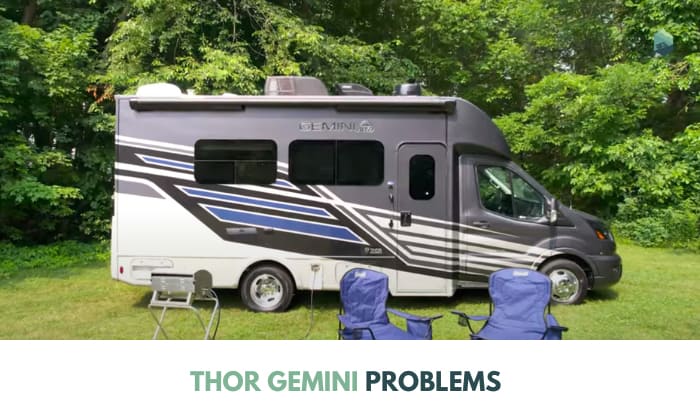 Thor Gemini problems may seem unthinkable. After all, Thor is the planet's largest RV manufacturer, respected and admired in the ever-expanding RV community. Unfortunately, quality concerns exist!
Even a brand-new 2023 Thor Gemini isn't immune to leaks, electrical concerns, cooling and heating issues, and other pleasure-sapping "incidents."
So, what problems should you anticipate from your Thor Gemini? More importantly, how can you troubleshoot and fix them? Please read on.
Common Thor Gemini Problems and Troubleshooting
Knowing the Gemini's common problems should help you perform more comprehensive Thor RV troubleshooting.
1. Faulty electrical outlets
A perennial concern of Thor Gemini owners, faulty power outlets can make RVing uncomfortable and inconvenient. You cannot use RV appliances to make your trip more enjoyable.
Troubleshooting
Assess the electric current from the power outlet using a multimeter or voltmeter.
Check the battery if the voltmeter shows unexplained electric current fluctuations.
Test other power outlets with the voltmeter if the device detects no electricity.
Check the fuse if other power outlets are working.
Replace the fuse if blown.
Consult a professional RV electrician if the problem persists even after replacing the fuse.
2. Battery failure
Although batteries have a definite operating lifespan, those on Thor Gemini RVs may fail faster.
Troubleshooting
Clean the battery and associated components (i.e., terminals, connectors, and wires).
Check for signs of oxidation.
Spray warm water on oxidized surfaces and wipe dry.
Assess the battery's fluid level (if it's a flooded type) and refill with distilled or electrolyte water.
Consider replacing the RV battery if the problem continues.
3. Issues with RV appliances and furnishings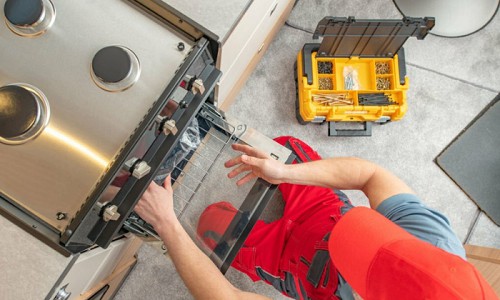 Many Thor Gemini owners question the brand's product quality, especially its furniture and appliances. Unfortunately, there's not much Gemini users can do to rectify the problem, unless they're certified electricians or craftspeople.
Troubleshooting
Assess the problem type. For instance, is the tankless water heater not heating up properly due to an insufficient power source? Are the drawers improperly aligned or missing bolts and screws on fixtures?
Check whether you can fix the problem DIY style. For example, can you replace the screws or address a water heater not heating?
Bring the Thor Gemini to an authorized service center to have these problems fixed. Ensure your vehicle's warranty is still valid. Otherwise, you can expect costly repairs.
4. Leaks
RV roof leaks are not exclusive to Thor Gemini. However, its implications are immense. RV owners must isolate and fix the problem to mitigate water damage-related issues, such as electrical short circuits and mold/mildew growth.
Troubleshooting
Identify the water leak's source. It could be worn-out or damaged weatherstripping or cracks in the wall, window, and roof. Or, it could be a pipe leak within the RV's walls or floor.
Switch off the water supply if you suspect busted plumbing or water fixtures.
Assess the problem to check if a DIY approach is possible.
If not, a plumber can fix the Thor Gemini issue.
5. Slide-out problems
You can have a 2018 Thor Gemini or a brand new version and still experience this issue. Slide-out problems are common in RVs, although surprisingly prevalent in Geminis.
Troubleshooting
Inspect the slide-out tracks for obstructions (i.e., small rocks, dust, dirt, excessive grease, and other particles) and remove them immediately. Clean the grooves.
Scrape rust and corrosion off the tracks.
Lubricate the slide-out components.
Check the motor or hire an electrician to assess and diagnose the issue.
Replace the slide-out if it's beyond repair.
6. Plumbing concerns
A busted pipe is never a good sign of RV quality. Unfortunately, some Gemini owners underscore this problem with their units.
Troubleshooting
Identify what caused the water pipe to break. It could be due to improper winterization procedures (not emptying the water pipes or not adding antifreeze before storage).
Inspect the water pipe's damage. You can apply sealant over the crack if it's minimal. Otherwise, replacing the busted water tube is the answer.
Avoid over-tightening pipe connectors to prevent damage.
7. Cooling and heating issues
Age is the most significant predictor of Gemini cooling and heating issues. Seals, ductwork, filters, and other components deteriorate over time.
Troubleshooting
Inspect the ductwork and filters for obstructions, such as dust, grease, dirt, and other surface contaminants. Remove these substances and clean the items thoroughly.
Check the thermostat for proper function. You can consult the manual for instructions on assessing and diagnosing thermostat problems.
Replace the filters if damaged or beyond their lifespan.
Consider a professional RV HVAC technician to diagnose the cooling and heating issue.
8. Toilet concerns
This smelly issue is prevalent in Thor Geminis. Water typically runs dry or doesn't stay in the bowl.
Troubleshooting
Assess the toilet bowl seal's integrity, noting signs of damage or deterioration and malfunction. Replace as needed.
Check the valve for proper closure and replace it if it's failed.
Determine if there's clog in the toilet plumbing. Hook undissolved tissue and other objects to clear the passageway.
What the Majority of Users Think About Thor Gemini?
Here is some common feedback of users about Thor Gemini:
Some Gemini models don't have issues.
Affordable price but with water stains on the ceiling around the sunroof
Good styling but poor-quality (i.e., defective XM radio and GPS, misaligned furnishings and fixtures, leaks, slide-out issues, and more)
Thor Gemini 23TE electrical wires on the RV's underside are secured only with electrical tape.
Quality concerns abound in the 2016 Thor Gemini (i.e., non-functioning tankless water heater, bent sewage connection, detached fridge panel, unsecured blinds, loose kitchen sink hinges, ill-fitting drawers, powerless electrical outlets, and defective exterior TV)
Conclusion
Surprisingly, Thor Gemini problems aren't as brand- and model- exclusive as most owners think. These issues can occur to almost any RV, regardless of brand.
Age-related deterioration is a significant factor, although Thor's questionable quality control is at the forefront of these issues.
Still, Thor remains a trustworthy brand among seasoned RVers. After all, a company cannot thrive to become the RV world's largest manufacturer if it doesn't have good-quality products.
"Hi, I'm Francis' husband—Calvin. Our story began with our shared passion for traveling. I have had a career journey for over 11 years at Ford Motor Company, where I took on the role of BMS SW Process Engineer.
Together with my wife, I have dedicated countless hours to exploring every nook and corner of the world. Ten years living in an RV may seem long, but time seems to fly by when I'm doing what I love with the person I love. 
That's why I am also a member of FMCA and have been a panelist on seminars at shows like FMCA's 103rd International Convention & RV Expo in Gillette, WY, where I can showcase my adaptability and expertise.
Like my wife, I hope to help you see the beauty of traveling off the beaten path by sharing insights into this lifestyle. In addition to my corporate roles, I also launched our website – Outdoorbits, in 2015 and continue to contribute my knowledge and skills to the present day. And I'll be completely honest with you—no hiding the truth or sugarcoating the possible challenges. 
So, if you want to run away from the busy lifestyle to embrace nature, I'm your guy."