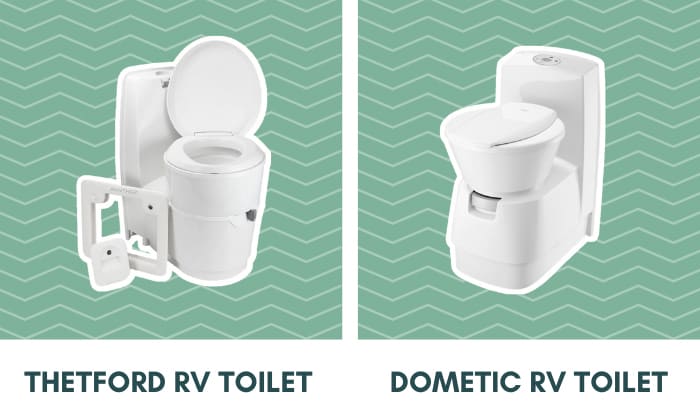 Toilets are an essential amenity that adds comfort to on-the-road trips in your RV. When it comes to installing a toilet, you will be immersed in a wide range of features and technologies, making your selection process perplexing. Thetford vs Dometic RV Toilet: Which is a better RV toilet?
It is not necessarily important to invest in the most high-tech toilet; instead, you should look for one that suits your needs and can be installed in the RV most efficiently. Here are a few things to consider when looking for RV toilets
Space of your RV
Number of toilets you need
Your travel preferences
Your travel companions
Types of RV toilets
Thetford vs Dometic Toilet of RV
Thetford and Dometic are among the most popular RV toilets in the market. They both come with an extensive range of products to meet the varied needs of RV users. But, which brand wins the debate of Thetford vs. Dometic RV toilet?
Thetford RV Toilet
The company has been supplying RV appliances for over 40 years and is loved by travelers across the globe. Thetford exhibits reliability in its product manufacturing by offering a standard warranty of up to 3 years.
When it comes to RV toilets, Thetford holds a strong footing in the market. In fact, the company is the inventor of cassette toilets. These toilets come with a removable waste-holding tank, which makes them the most convenient solution for RVs.
Every model of Thetford is carefully and ergonomically designed to ensure comfort, elegance, and usability. This industry leader provides a wide range of RV toilets that are easy to use and comes with water-saving capabilities. The features of the toilets are expansive and improve with every new model.
Here are some popular Thetford RV toilets that rank high up in the market
1. Thetford Aqua Magic V RV Toilet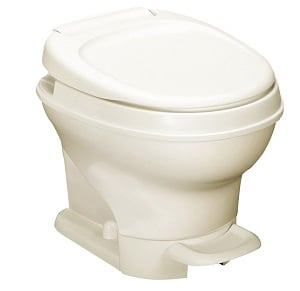 If you are looking for a classic-looking toilet that is easy to install, this is one of the most popular choices. While typically RV toilets are quite short, making them uncomfortable, this RV toilet is designed using plastic and has a height of 17 inches.
It comes with the required gaskets and is extremely easy to install. You will find a foot pedal flush system, making flushing easier. The flush also covers the entire bowl so you will get a thorough cleaning.
For a halfway flush, press the foot pedal halfway, and for a strong flush, push the pedal all the way down. Additionally, the Aqua Magic V toilet features a textured lid to offer scruff resistance and prevents water accumulation. An issue that users may experience is that the bowl is too shallow, so you may have to deal with spray issues.
2. Thetford 420558 Aqua Magic Style II Toilet
The Aqua Magic II RV toilet is another popular product by Thetford, which is comfortable and stylish. This contemporary toilet is designed to make users feel like they are using the toilet at home. It features a tall toilet seat so you will not have any problem sitting down and standing up.
Moreover, it is ideal for people who have bad backs and knees and long gams. Though the toilet is made of a china bowl, it is impressively lightweight. One of the key features of this RV toilet is that it comes with an antimicrobial seat that is odor and stain-resistant.
It features a single-pedal flush system, which provides a strong flush to cover the entire bowl. The use of a china bowl ensures a smooth and even cleaning process as opposed to toilets with plastic bowls. The Aqua Magic Style II toilet is also quite easy to put together, and that package comes with wax rings, bolts, and a flange seal. The only flaw in this toilet is that the product is only offered in white color.
3. Thetford 34429 Aqua Magic Style Plus Toilet
This is among the top-of-the-line toilets that come with stellar features. It sports a tall seat, making the Aqua Magic RV toilet perfect for tall people and ones who deal with bad backs and knees.
It comes with an antimicrobial seat, making it an extremely hygienic option. Coming to its look, you will be impressed by its solid and contemporary build. The china bowl is embedded on a polymer base giving a stylish alternative to traditional-looking RV toilets.
This is also quite deep in comparison to other RV toilets. The single-pedal flush offers a powerful flush to clean the entire bowl thoroughly. With low water usage, this toilet is designed to provide excellent performance.
It features a customizable residential toilet-type seat. Furthermore, the toilet comes with a detailed installation manual, and you can complete the installation within 30 minutes. The only thing is that we would have loved it if the toilet came in more than one color.
Dometic RV Toilet
Dometic RV toilet is another big name and for all the right reasons. The brand is known for offering a durable, lightweight, and stylish range of RV toilets. Different series of toilets come with convenient features and cater to various price segments. When it comes to range, Dometic stands a step ahead in the Thetford vs. Dometic RV toilet race. The toilets are built with quality in mind, and you will get the same assurance with warranty cards. The installation of Dometic products is also quite easy.
Some of the best Dometic RV toilets to look out for are
1. Dometic 310 Series RV Toilet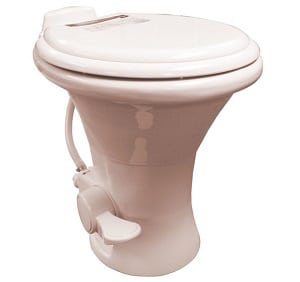 This RV toilet comes with an expensive price tag, but with the kind of performance it offers, you would not mind spending a few extra bucks. It is a standard-height, full-sized flush toilet featuring a sturdy ceramic bowl. It is one of the most durable RV toilets in the market so you will be getting your money's worth.
The package comes with all hardware as well as fittings, making the installation process breezy. Additionally, the ceramic toilet seat gives a beautiful look and is easy to clean. While the base is plastic and lightweight, you can feel that the overall structure is sturdy and robust.
It is compact and consumes less room but is still comfortable. So if your RV does not have much room, this small yet strong RV toilet would be an ideal choice. A major drawback of this product is that its seat caters to people with a smaller stature. So, if you are over 6", you will have trouble finding comfort.
2. Dometic 320 Series RV Toilet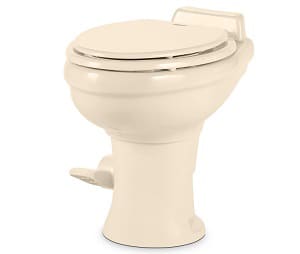 The Dometic 320 RV toilet comes with standard height, providing a feel of a residential-type toilet. It is made using a vitreous ceramic material, providing the right sturdiness and durability. The product also has a broad and elongated wooden enameled seat.
Notably, its bowl is quite deep, providing optimum comfort to the users. The depth of the part is sufficient enough for you not to feel awkward and cramped while sitting. And the fact that the bowl is elongated assures you of more comfort, making it worth spending your money.
A vital feature of this RV toilet is the spray faucet, providing a thorough cleaning. Additionally, you will also find a mount that can be attached to the wall. The ergonomic foot pedal for hand-free flushing is another impressive feature of the Dometic 320 Series. However, the round base of this toilet is something that people do not find appealing.
3. Dometic 300 Series RV Toilet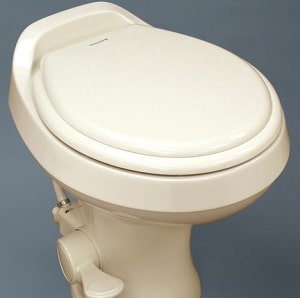 If you are looking for an RV toilet that offers a residential toilet feel, you cannot go wrong with this choice. It is also an economic gravity flush toilet. It comes with robust, strong triple jet action, which gives the bowl a thorough cleaning from every angle.
The Dometic 300 toilet features a foot pedal flush with adjustable water features, allowing you to control the amount of water you get in every flush. This handy function, along with triple jet action, makes sure you get proper cleaning in every use.
It is water-efficient as well. You only need water up to a pint for every flush. It is bigger than the standard toilets that RVs have. You would not need a pedestal to feel comfortable. The standard height of this toilet is high enough for people with large builds.
The RV toilet is durable yet lightweight and can be installed easily with a manual guide's assistance. Additionally, it comes with all the necessary fitting equipment, so you do not have to purchase anything.
Conclusion
There is no definite way to settle the debate of Thetford vs Dometic RV toilet. The decision depends on the following factors.
The quality of the toilet
The size of the toilet
Warranty provided by the manufacturer
Your budget
"Hi, I'm Francis' husband—Calvin. Our story began with our shared passion for traveling. I have had a career journey for over 11 years at Ford Motor Company, where I took on the role of BMS SW Process Engineer.
Together with my wife, I have dedicated countless hours to exploring every nook and corner of the world. Ten years living in an RV may seem long, but time seems to fly by when I'm doing what I love with the person I love. 
That's why I am also a member of FMCA and have been a panelist on seminars at shows like FMCA's 103rd International Convention & RV Expo in Gillette, WY, where I can showcase my adaptability and expertise.
Like my wife, I hope to help you see the beauty of traveling off the beaten path by sharing insights into this lifestyle. In addition to my corporate roles, I also launched our website – Outdoorbits, in 2015 and continue to contribute my knowledge and skills to the present day. And I'll be completely honest with you—no hiding the truth or sugarcoating the possible challenges. 
So, if you want to run away from the busy lifestyle to embrace nature, I'm your guy."