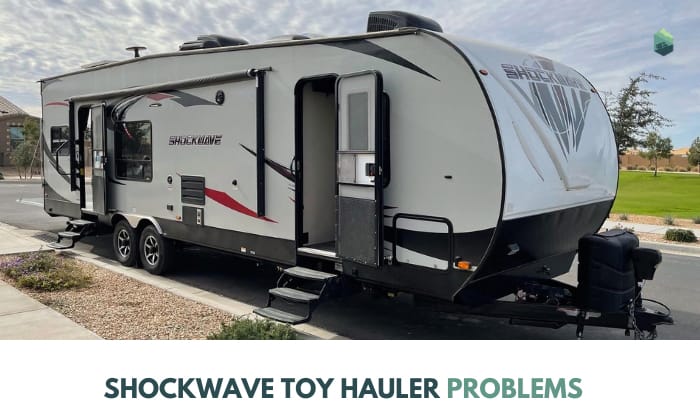 Understanding common Shockwave toy hauler problems empowers potential buyers to make the right decision. Although this brand has excellent RV layouts and nearly zero mechanical issues, we have noticed a few concerns that might affect drivers' experiences.
Here are some of the problems most Shockwave toy hauler owners noted.
| | |
| --- | --- |
| Shockwave Toy Hauler Problems | Recommended Solutions |
| Battery issues | Test voltage, replace the battery with a higher series number, and turn off the inverter when not in use. |
| Gas leaks | Ascertain the presence of a gas leak, replace the gas cap and other gas supply components, or consider having a technician look at the problem. |
| Poor quality control | Determine which components need repairs or replacement. Contact the manufacturer for solutions. |
| Defective appliances | Let a professional diagnose the problem before considering replacing the faulty appliances. |
Problems with Shockwave Toy Haulers
RVInsider offered a polarizing Shockwave toy hauler review and rated the brand three out of five stars.
Although the rating is above average, aspiring Shockwave toy hauler owners should know what keeps this RV from achieving a perfect five. Here are some issues worth noting.
1. Battery Issues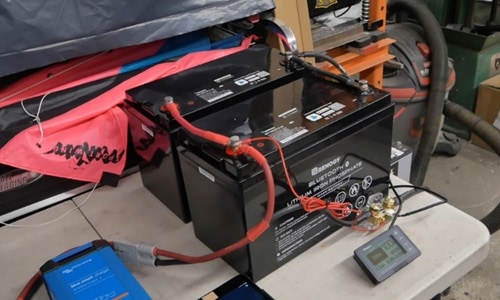 Batteries have a definite lifespan. Unfortunately, some brands (or dealerships) might install cheap batteries to save costs.
Some Shockwave RV owners complain of batteries going dead after dry camping for at least two days. Now, that can be frustrating because your boondocking adventures can have a dramatic turn.
The solution
Connect a voltmeter to the RV battery and check its electrical parameters. Recharge the battery if its voltage falls below 12.4 volts. Replace the RV battery if you think it's beyond salvation.
Check the battery's series and replace it with a higher series number. For example, if your RV batteries are series-24, you can pick a series-27 or series-31 instead.
Ensure to turn off the inverter (if any) when not using AC appliances during dry camping to prevent battery drain.
2. Gas Leaks
Some Shockwave toy hauler owners question whether their built-in gas supply has proper venting. They notice a hissing sound from the gas cap.
Gas permeating the toy hauler is a safety hazard, increasing the risk of vehicular fires. You might want to address this issue before continuing with your adventures.
The solution
Have an emission test done and see if the cap is vented or non-vented. The cap should let air in but keep fuel from going out.
Consider replacing the cap (and other components) if the problem persists.
Let a technician assess and fix the issue.
3. Poor Quality Control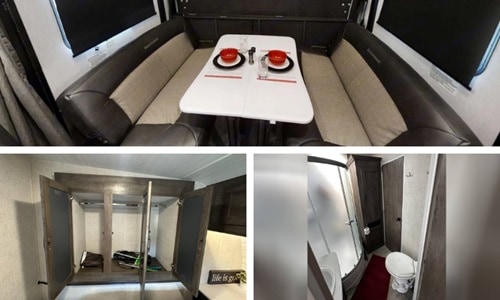 Surprisingly, some Forest River customers with Shockwave toy haulers complain of poor quality control.
Examples include water leaks around the toilet, power jack problems, cabinet doors that won't lock, and paper-thin leather seat covers.
The solution
Assess all RV components and note those you can repair or replace.
Replace the materials with premium-grade or high-quality options, although doing so can increase costs.
Contact the manufacturer or dealership to determine your options.
4. Defective Appliances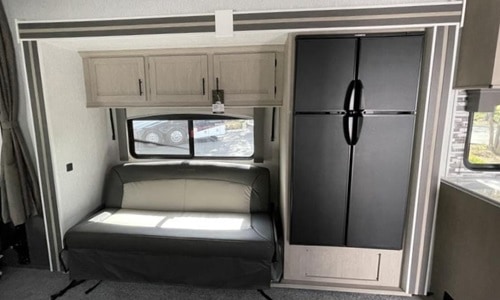 Defective and inconsistent-functioning appliances can be a symptom of poor quality control. Unfortunately, even Shockwave's 2022 model can have these issues.
For example, a 2022 Shockwave owner complained of a defective water heater and a refrigerator that doesn't run on electricity.
The solution
Bring the toy hauler to a service center and have an electrician diagnose problematic appliances. You might want to check your warranty and see if these services are part of the coverage.
Consider replacing the defective or low-quality electronics with more reliable options. Note that this action needs a bigger budget.
What Do Owners Think about Shockwave Toy Haulers?
Our 2019 Shockwave toy hauler (T18CBMX) has an impressive open floor plan, allowing six to sleep comfortably with its great A/C. – Joe Mastroddi on RVInsider.
The 2016 Shockwave 25FQMX's spacious interior makes it the ideal storage for toys, while the amenities are perfect for boondocking. It's easy to tow, too. – Lolly on RVInsider.
The 2020 Shockwave toy hauler looks impressive but suffers from quality control issues (i.e., electrical, leaks, and paper-thin leather). – Kevin on RVInsider.
Conclusion
No RV is immune to quality control issues, making Shockwave toy hauler problems easier to "swallow." It's worth noting that these concerns aren't pervasive, suggesting previous owners' care and maintenance oversights.
However, brand new units might also come with defects. The good news is the manufacturer covers such problems with its warranty, allowing you to enjoy your toy hauler.
You can feel confident and secure that ForestRiver will honor its pledge, lest it tarnishes its image.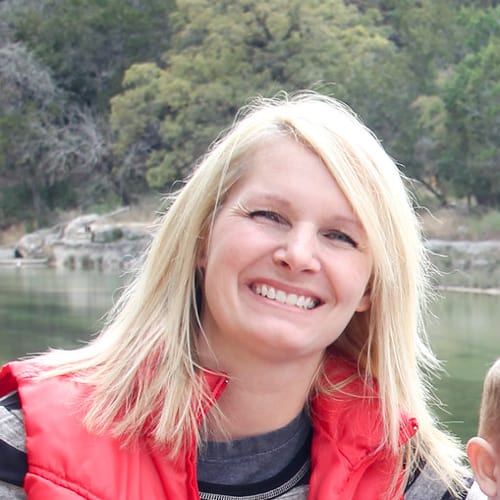 My career journey has been marked by a variety of roles. I served as a Personal Trainer for Children, Fitness Instructor, and Home-Based Consultant in Detroit Wayne Integrated Health Network. 
More than ten years of traveling in my caravan have lent me a deep appreciation of freedom. Without the shackles of being tied down to one place, I get to explore many parts of the world and relish the exhilaration that comes with discovering new things. Throughout my journey, I have been a member of FMCA (Family Motor Coach Association) since 2020. Thus, living on the road has never become boring for me.
As someone with a burning passion for traveling, I want to inspire others to adopt a nomad lifestyle to appreciate the beauty of the world. This, of course, requires a functioning vehicle that can always make you feel at home, even when you're far away from modern life.
Therefore, I seek to put my experience to good use—helping you with your adventure on the road. As a result, I launched and managed the Outdoorbits website, where I likely share my enthusiasm for outdoor activities and health-related insights.