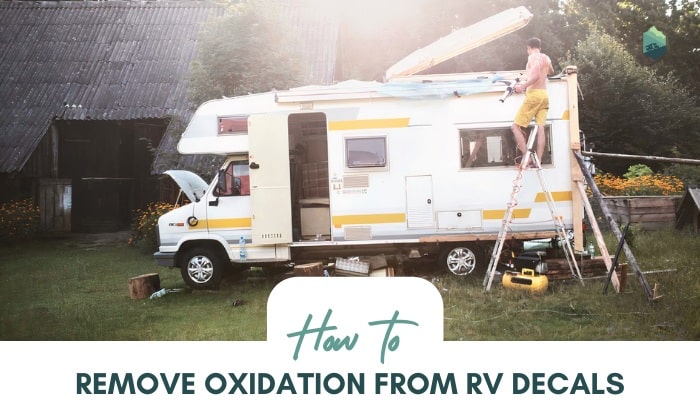 Over the past few years, RV decals have become such a trend as it helps make the RV's exterior look amazing. RV owners tend to expose their RV's exterior to environmental factors that lead to fading RV graphics like decals. This can directly affect the RV's aesthetics.
Luckily, there is an easy way to remove oxidation from RV decals by polishing and waxing the area. If you want to know how to remove oxidation from RV decals, this article is the one for you.
Find Out Which Process to Use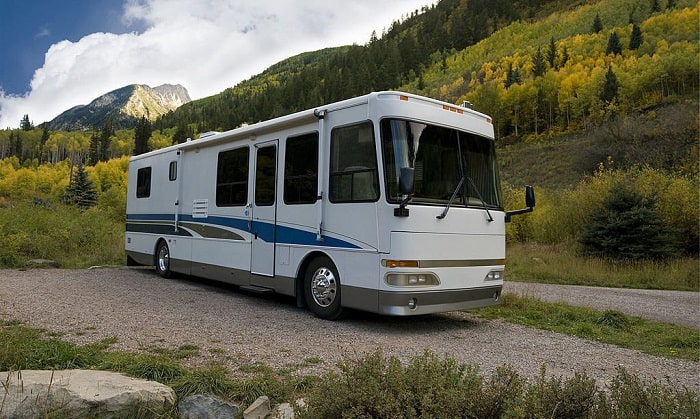 Now that you have prepared the items to repair the decal surface, let's dig into the steps for removing oxidation from RV decals.
You need to find out first which type of decal you are using. After that, you can confidently choose the proper oxidation process for your RV exterior materials.
Decide which process you should use to avoid damaging your decals. Check out the following ways to remove oxidation from your rig's decals
1. Polishing the RV decal
What You Will Need
The most common way to remove oxidation from your rig's decals is by polishing it. For this process, you will need some materials:
A heat gun, power buffer
Automotive wax
Sandpaper
Paint
Plastic sheets
Automotive polish
Microfiber towel
Masking tape.
This process is usually done for fiberglass gel-coated surfaces.
Step-by-Step Guide
Step 1: Prepare the Area
The first step in the RV decal restoration process through polishing is by making sure that you remove all dirt and surface impurities in the surface. Wash it thoroughly with water and use a microfiber towel to wipe off any wet spots after.
Step 2: Protect the Area's Surroundings
If you are only working on a small part of your RV's decal, you need to make sure to that don't need oxidation. To do this, you will need masking tape or large plastic sheets to cover the decal's surrounding areas that need to be fixed.
Step 3: Apply Polish to the Area
The next step is to apply polish to the fiberglass surface with a decal. To do this, you will need a damp polish applicator or a piece of a microfiber towel. Put an adequate amount of the polishing compound or elbow grease for hand buffing. You can also use an orbital sander or electric power buffer by putting the compound on a soft foam pad connected to your buffer that is smooth-sided.
The RV fiberglass should be wiped thoroughly in a circular motion while leaving enough compound on the surface that it will turn hazy once it dries up. Make sure that all the little nooks and crannies are applied with the polishing compound.
Step 4: Rinse and Buff the Area
Next up, get your dry cloth and buff the fiberglass gel coat decal. Continue doing this until it's shiny. Rinse the gel coat to remove excess polishing compounds. Once finished, wipe it with a dry cloth to get rid of any water spots.
Step 5: Apply Wax to the Area
The last step in polishing your rig's decal is to apply wax. It's not enough to polish it since it won't keep your decals protected enough. Some wax comes with its applicator but chooses a cream-colored one. Follow the manual on how to apply it properly. Once it's dry, you can now buff it again.
2. Replacing the RV decal
For rig owners who don't want to spend a lot of time fixing their RV's exteriors, they can opt to replace their old decal. In this process, the tools you will need are the vinyl sheet and scissors or cutter.
To do this, buy a vinyl sheet and cut it accordingly. Carefully place it over the old one and make sure to remove any air bubbles to smoothen it out.
3. Removing the RV decal
If you want your rig to have a clean look, you may choose to remove the decal. You will need a lot of patience for this process. Some of the things that you will need in this process are a heat gun or hair dryer, adhesive remover, microfiber towel, and ghost-off oxidation cleaner.
Start by heating the area. You can use a hairdryer or a heat gun for this. Once it's done, you can carefully peel it off. You can use an adhesive remover to clean the surface for a cleaner and smoother area.
Wipe the area with a microfiber towel and apply a ghost-off oxidation cleaner to ensure the area is smooth and the paint is even.
4. Repainting the RV decal
Sometimes, the oxidation can be so severe that all you can do is repaint it. To prepare for this process, you will need paint, marine-grade coating, a microfiber towel, sanding paper, masking tape, protective paper, and a clear top coat.
Before you start painting over it, you need to isolate the area first and protect its surroundings from getting painted.
Next, remove the paint and wipe the area with a microfiber towel. After that, sand the area and wipe it clean.
Once you're done with all the necessary preparations, apply a marine-grade coating as your primer.
Sand the area and clean it again right after.
Now, you can spray the paint gradually in thin layers and make sure that it's all even throughout the area.
Lastly, apply a clear coat on top to prevent oxidation and remove all the protective cover you placed earlier.
Type of RV Decals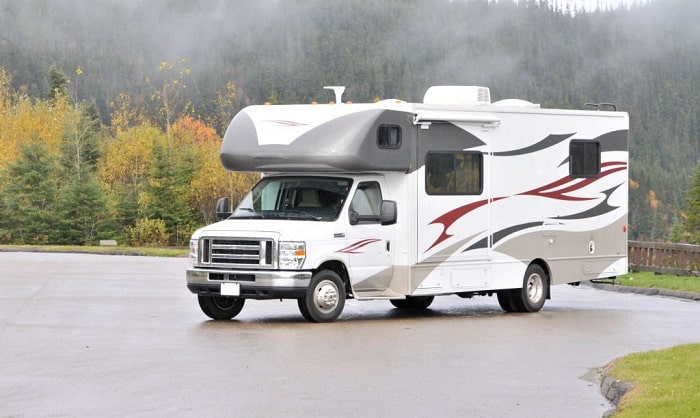 An RV owner must know what the different types of RV decals are. There are four types: fiberglass gel coat RV, 3D chrome-plated, full-body paint coating, and vinyl graphics.
1. RV Gel Coated Fiberglass
There is no doubt that fiberglass gel coats are the most common decal type for RV. The design is mostly printed on any fiberglass material, and you can use painting or polishing for the fiberglass gel coat surface.
2. 3D Chrome-plated
The 3D Chrome-plated decal can make your rig look luxurious. These decals may fade easily, but they are durable and not prone to peeling or scratching. You can do a bit of re-polishing to achieve a brilliant shine, but you will need re-chroming in ten years or so.
3. Fully Painted Coating
If you own a high-end RV, your decal will most likely be a full-body paint coating. The fully-painted RV coating is the same as the gel-coated fiberglass surface but with a clear topcoat.
Thus, the RV may need a fresh coat of paint to restore its appearance, such as white paint for corrugated fiberglass material. The fully painted finish will breathe life into the vehicle.
4. Vinyl Decals
Another common decal type for RVs is Vinyl Graphics. These are usually made of plastic material that wears off faster than other decals. If the oxidation is light, it can be restored through sanding and polishing. However, if it has become too severe, the only thing left is peeling it off the RV surface and putting in new ones.
Conclusion
RV decals bring beauty to our RV exteriors. That's why every rig owner should know how to remove oxidation from RV decals since it would play a big role in the appearance of our RV. With the help of this article, you can now camp freely knowing that you can save your RV exterior with just a few steps.
Did you find the answers to your questions in this article? Don't forget to leave a comment down below and share this article with your friends who are interested in RV oxidation.
"Hi, I'm Francis' husband—Calvin. Our story began with our shared passion for traveling. I have had a career journey for over 11 years at Ford Motor Company, where I took on the role of BMS SW Process Engineer.
Together with my wife, I have dedicated countless hours to exploring every nook and corner of the world. Ten years living in an RV may seem long, but time seems to fly by when I'm doing what I love with the person I love. 
That's why I am also a member of FMCA and have been a panelist on seminars at shows like FMCA's 103rd International Convention & RV Expo in Gillette, WY, where I can showcase my adaptability and expertise.
Like my wife, I hope to help you see the beauty of traveling off the beaten path by sharing insights into this lifestyle. In addition to my corporate roles, I also launched our website – Outdoorbits, in 2015 and continue to contribute my knowledge and skills to the present day. And I'll be completely honest with you—no hiding the truth or sugarcoating the possible challenges. 
So, if you want to run away from the busy lifestyle to embrace nature, I'm your guy."