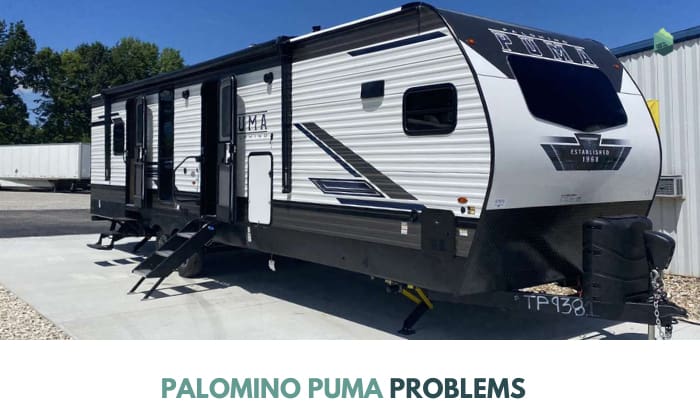 If you're looking for a budget-friendly motorhome, Palomino Puma can be a great choice. Because it's a low-end model, however, it can also be prone to several problems.
The most common Palomino Puma problems you might encounter include inferior water connections, sub-standard parts, improper installation of the slide, and leaky wooden frames.
Read on to learn how to deal with them.
| | |
| --- | --- |
| PROBLEMS | SOLUTIONS |
| Inferior Water Connections | Tighten the joints. |
| Sub-Standard Parts | Replace parts with poor quality; buy extended warranty. |
| Improper Slide Installation | Lubricate moving components. Reinstall the slide. |
| Wood Frame | Fix the leaks and unscrew the rotten parts. |
| Improper Wiring | Replace and reinstall as necessary. |
| Low Freshwater Tank | Lift the tank or install a guard. |
| Loose Gas Hose | Buy a longer hose. |
Common Palomino Puma Issues and Solutions
A quick online search, even when talking to fellow RV enthusiasts, reveals some problems with the Palomino Puma travel trailer, including those we'll talk about below.
1. Inferior Water Connections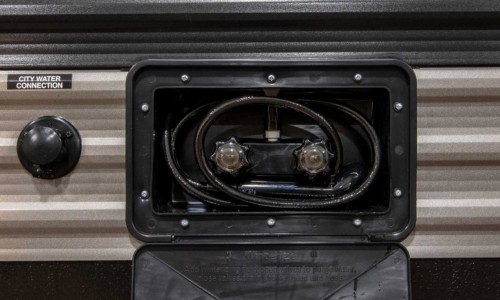 One reviewer gave the Palomino Puma an overall rating of 1.8. There were several reasons for such a score, but one of the most notable was the poor water connection.
The leaky connections can be frustrating as they can flood your trailer, damage your appliances, furniture, and flooring.
Solution: A quick inspection will do the trick. This will let you spot problems and work on them before they can wreak havoc on your travel trailer. If you have leaky plumbing, tightening the connections can offer an easy solution.
2. Sub-Standard Parts
This might feel like too much of an accusation, but there are people who say that the quality of the RV parts is subpar.
For instance, based on a review I read, Palomino Puma has flimsy plastic vents, shoddy roof strips, and easily broken doors, knobs, and windows.
Solution: Sadly, there's not much you can do about it. Perhaps, you can make things better by paying attention to proper care and maintenance.
You can also replace sub-par components yourself, but they will cost you. An extended warranty purchase will also be useful if the dealer of your trailer refuses to help.
3. Improper Slide Installation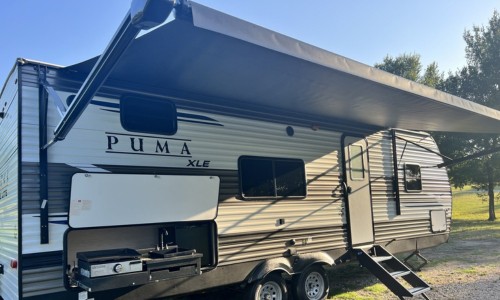 In another review, a user noted a problem with the slide installation. It can make the frame twist, which can weaken the entire structure over time. Not to mention, it can also damage and rip the floor, which can be costly to repair.
Solution: If you're having problems with the slide, hire someone to reinstall it and ensure the motor is working properly.
An easy fix is to clean and lubricate the moving components if there is blockage while using them. This way, the sliding mechanism will be smoother, minimizing damage to other parts.
4. Leaky Wood Frames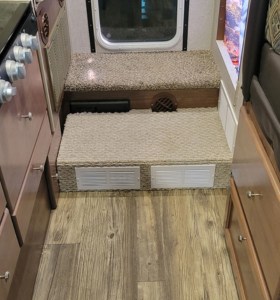 Depending on who you ask, the wooden frame of the Palomino Puma can be a good or bad thing. For some, it can be a problem, since it can rot as a result of being repeatedly wet.
As mentioned, leaks are common complaints for Palomino RVs, so you might be worried about deterioration of wooden components in your vehicle.
Solution: There's nothing much you can do with the wooden frame. However, you can prevent excessive damage by fixing sources of leaks to avoid rotting. The rotten wood is also removable if you unscrew its joints.
5. Improper Wiring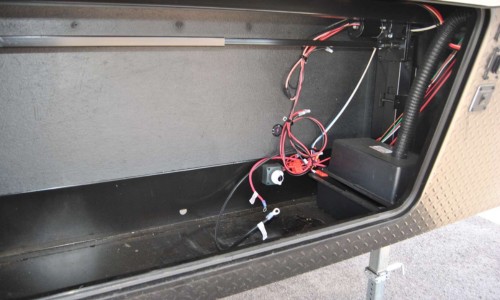 Palomino's wiring can be very problematic, so have an electrician check the electrical board, outlets, and cables in your vehicle before proceeding with the trip.
You don't want to deal with fires, shocks, and other dangerous mishaps while traveling.
Solution: Replace the faulty wiring as necessary. If too many things require fixing and you don't have enough money, consider what outlets and appliances you can do away with, and keep only the essentials.
6. Risky Placement of the Freshwater Tank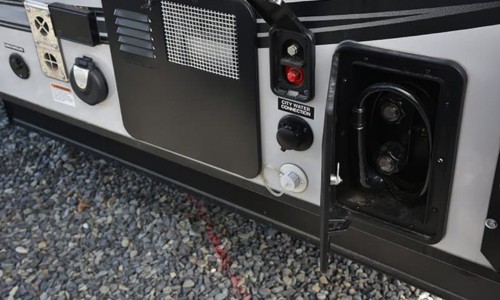 The freshwater tank may be too low on Puma travel trailers, causing it to hit obstacles and incurring dents while on the road.
Solution: Install a tank guard to protect it from scratches, or lift the tank higher if you have the money for such a fix.
7. Loose LP Gas Hose
The gas hose may be too short, causing it to stretch and loosen from its port while traveling. This is especially the case if you're driving on rough roads with a lot of debris and vibrations.
Solution: Avoid gas leaks by purchasing and using a longer hose.
What Do Users Think of Palomino Puma RVs?
Users have mixed reviews of the Palomino Puma, which has garnered an average of 3.7 out of 5 stars on one review platform.
One of the areas often praised is the floor plan. You'll find lots of counter space, and even the shower is perfect for a tall person. Even with a good floor pan, however, it should be noted that it can fit only a small group.
Nonetheless, we found a lot of negative reviews when it comes to the overall quality of the travel trailer, which can be a deal breaker for many.
For example, there are complaints about subpar awnings and sink cabinets. Some people also noted that the factory warranty is unreliable. Even with a 12-year roof warranty, some customers are quite unhappy.
Conclusion
From product quality to performance, you'll encounter several Palomino Puma problems. The brand's well-loved by many because of its price, but many users assert that the overall quality is disappointing.
So, watch out before you buy this traveler trailer, and be proactive in terms of maintenance to avoid headaches with your motorhome.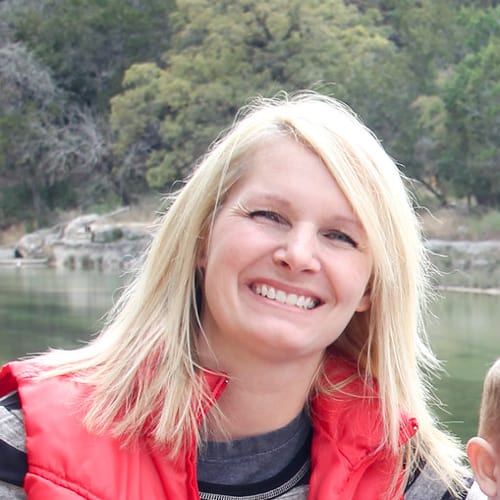 My career journey has been marked by a variety of roles. I served as a Personal Trainer for Children, Fitness Instructor, and Home-Based Consultant in Detroit Wayne Integrated Health Network. 
More than ten years of traveling in my caravan have lent me a deep appreciation of freedom. Without the shackles of being tied down to one place, I get to explore many parts of the world and relish the exhilaration that comes with discovering new things. Throughout my journey, I have been a member of FMCA (Family Motor Coach Association) since 2020. Thus, living on the road has never become boring for me.
As someone with a burning passion for traveling, I want to inspire others to adopt a nomad lifestyle to appreciate the beauty of the world. This, of course, requires a functioning vehicle that can always make you feel at home, even when you're far away from modern life.
Therefore, I seek to put my experience to good use—helping you with your adventure on the road. As a result, I launched and managed the Outdoorbits website, where I likely share my enthusiasm for outdoor activities and health-related insights.