DriveRite Air Suspension
DriveRite offer a wide range of precision made air suspension kits for motorhomes, this wide range can be fitted to almost all motorhome chassis on the market. We offer the most popular kits for motorhomers alike – if in doubt get in touch to clarify which kit you will need or if you want it installed.
Motorhome air suspension has become much more popular due to availability of parts, common chassis elements and ever increasing stress put onto the rear suspension when carrying heavy loads. Motorhome air suspension can alleviate to some degree the sagging of the rear suspension and improve rear ground clearance.
Driverite air suspension kits are suitable only for Standard Chassis and not Alko type.
To check which chassis you have look underneath the rear axle of your vehicle, if you can see Leaf spring arrangement with a bump stop then you have a standard chassis, if you see a torsion bar type suspension then you have an Alko type chassis, see images below:-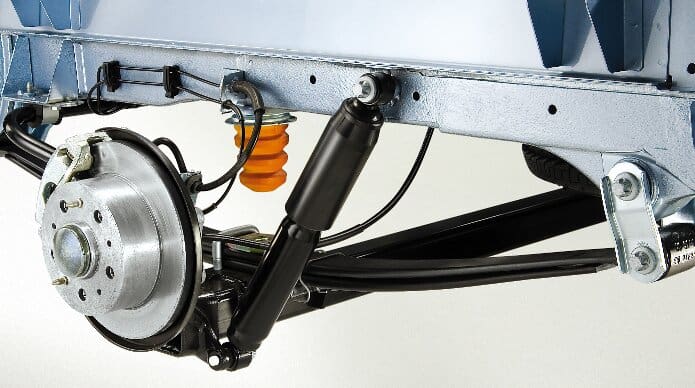 Standard Fiat Chassis arrangement with leafsprings and orange bump stop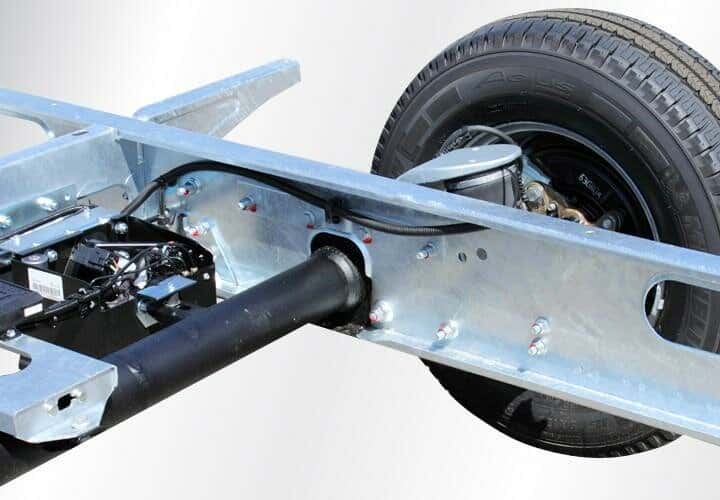 Torsion bar suspension arrangement as used in Alko Chassis
Why fit motorhome air suspension?
Improved straight line stability when on the motorway, particularly when overtaking lorries or in cross winds, it will reduce body roll of a motorhome and make it a little more predictable.
Improved ground clearance – handy when boarding ferries or when changing elevation.
Improved ride comfort – this is more noticeable if your motorhome is already running on the bump stops or close to hitting them, also the air suspension will offer a greater level of damping.
DriveRite manufacturer various kits to suit different chassis however they do not currently offer kits for the Al-Ko chassis.
Drive Rite Motorhome Air suspension can be fitted to the following vehicles:
Ford Transit Twin Rear Wheel
Fiat Ducato
Peugeot Boxer
Talbot
Iveco
Mercedes bases
Driverite kits have a 2 year guarantee or 24,000 Miles.
Please check your chassis choice is correct before ordering.
Airide Air Suspension for motorhomes
CarteeAir X082 Light Duty Air Compressor 12v 120PSI
Drive Rite Air Suspension Kit Fiat Ducato X250 2006-2016 (large airspring version) inc Gauge
Drive Rite Air Suspension Kit Iveco Daily 35c 2006 onwards
Drive Rite Compressor Kit for Fiat Ducato / Peugeot Boxer / Citroen Relay vans
Drive Rite Semi Air Kit Fiat Ducato X230/X244 1994-2006
Drive Rite Semi Air Kit Fiat Ducato X250 / X290
Drive Rite Semi Air Kit Ford Transit (Twin Rear Wheel) 2001-2016
Drive Rite Semi Air Kit Mercedes Sprinter 2006-2016 with Overhand up to 2.015m
Drive Rite Semi Air Suspension Kit Fiat Ducato/Peugeot Boxer 2007 onwards
Gauge Kit – Manual Inflation
Semi Air Kit – Fiat Ducato Euro Chassis 280/290 88-93