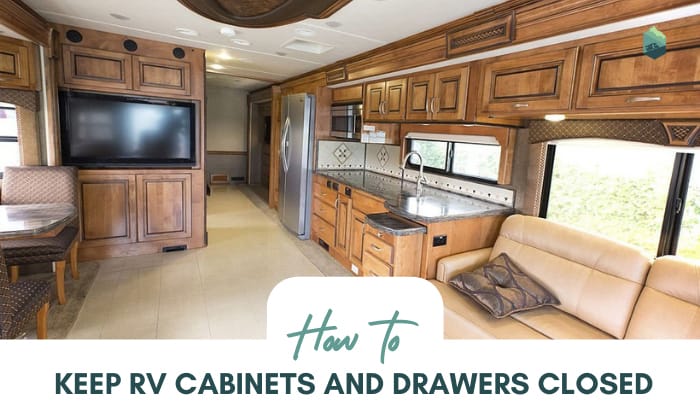 Driving an RV across the country can be a fun experience, but it can also be very troublesome if your cabinets and drawers don't stay closed while you drive.
Whether for food, stove fuel, utensils, pads, or other appliances, they are the first place we go when looking for something. However, you'd be surprised by the number of things that can fall out of these storage spaces on rough roads.
Going on a road trip soon? No problem! In this guide, we'll share how to keep RV cabinets and drawers closed while driving.
Permanent Fixes to Keep RV Cabinets Closed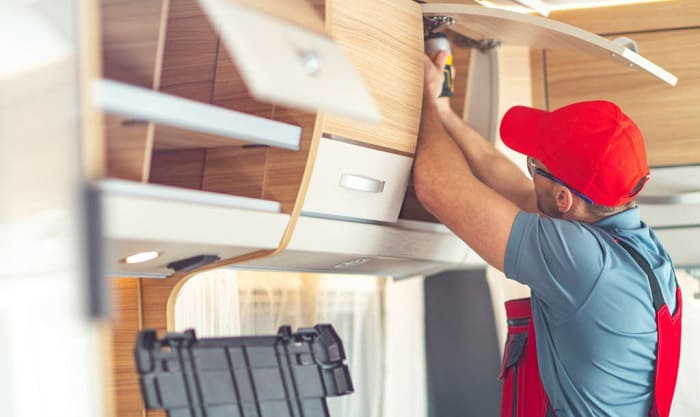 Option 1: Magnetic Latches for Heavier Loads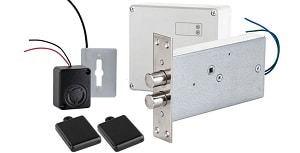 The biggest problem with using regular magnets to keep drawers closed is that they don't have any kind of latch mechanism, so they can be easily opened by bumping into them in the car.
This is where magnetic latches for RV cabinets differ because of their mechanical latches that are built to withstand quite heavy contents. Despite this, these RV cabinet latches still have their load limits so be sure to check these in order not to overload the drawers.
---
What to prepare:
Magnetic latches
Screwdriver
Hand drill
Marker
Screws or mounting tape
Optional: bracket or spacer for when the latches are misaligned or there is not enough space
---
Instruction
To mount the magnet to your drawer or RV cabinet doors, first, place a magnet on the surface and mark the exact spot where you'll drill holes to secure it.
Now, drill holes through both sides of your drawer or cabinet where you marked them before with a drill bit that matches the size of your screws.
Once all of your holes have been drilled, carefully place your magnet inside each hole and make sure they are lined up perfectly before continuing with this step. If they don't line up perfectly, take them out and try again until they do.
Once everything is lined up properly, screw them into place until they are tight enough to hold everything in place while traveling without sliding around too much or falling out completely.
Optional: If you're attaching from the side of your RV sliding drawers or cabinets and running out of space, then you can use a spacer or mounting tape before bolting in the screws.
Option 2: Child Locks – Perfect for those with Children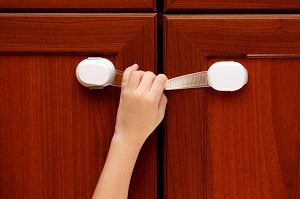 Travel trailer cabinets can be a dangerous place for children. They contain things like cleaning supplies, knives and other sharp objects, and even chemicals that you want to keep away from babies and kids.
This option is ideal if you want to keep RV drawers closed while driving and you're a parent who wants to keep their kids safe.
---
What to prepare:
Adjustable child safety strap locks
Cleaning solution or alcohol
Microfiber cloth
Optional: solvent-based cleaner, sandpaper, primer
---
Instruction
Before you begin the installation process, make sure that the area where you plan to install the child lock is clean and free of dust and debris.
To clean them, a quick wipe-down with an alcohol solution should remove any dust or residue.
If the alcohol solution is not enough, you can use a solvent-based cleaner (depending on how much grease or oil is on there). Then rinse with water afterward so they're not sticky anymore!
If you're looking for a way to improve the performance of your child lock knobs, there are two things you can do: sanding and priming.

Sanding will smooth out any rough edges on your knobs and improve their performance overall;
Priming will improve their bonding power so they stay put longer and don't come off as easily over time.
Temporary Fixes to Keep RV Cabinet Closed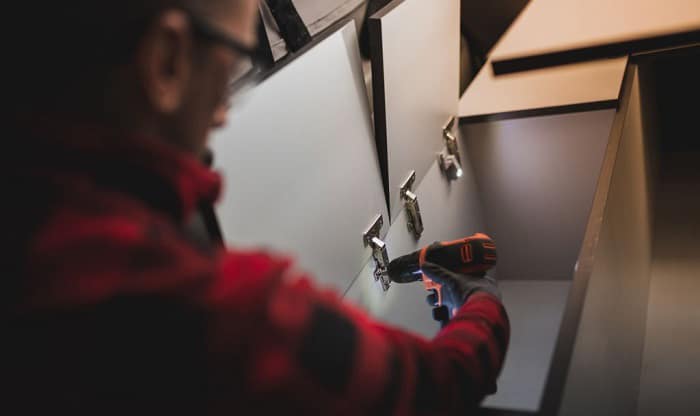 Option 1: Adhesive-Backed Magnets for Lighter Loads
If you want to add even more protection and keep your RV cabinets and drawers closed when moving, we recommend using these types of magnets since they don't require any skill to install.
However, if you want to avoid having to fix a drawer bottom, it is important to note that these magnets are not intended to hold heavy objects.
---
What to prepare:
Adhesive magnets
Cleaning solution
Microfiber cloth
---
Instruction
Clean the surface with rubbing alcohol or a cleaning solution before applying the adhesive-backed magnet. This will ensure that there is no dirt on the surface that could interfere with adhesion once applied to the cabinet door or drawer front.
Peel off the backing from one side of your adhesive-backed magnet and stick it firmly onto your door or drawer front.
Press firmly for about 30 seconds until secure.
Repeat the steps above for the second magnet in the pair.
Make sure that the magnets are aligned correctly so that they will work smoothly when you open and close your cabinet doors or drawers.
Option 2: Velcro Strips for Smaller Drawers and Cabinets
Velcro is another alternative to keep things from falling out of RV cabinets while driving if you have smaller drawers, cabinets, or compartments that you'd like to keep closed.
These are incredibly easy to install and remove, so they're great if you want to move the storage items around frequently.
---
What to prepare:
Hook-and-loop Velcro tape
Cleaning solution
Microfiber cloth
Pair of scissors
---
Instruction
Remove all dust from your drawer or cabinet by wiping it down with a clean microfiber cloth (or other soft material) and your chosen cleaning solution.
Be sure to pay closer attention to the corners of each opening, since that is where your Velcro strips will be placed.
After cleaning, dry all surfaces thoroughly with another clean cloth or paper towel.
Cut strips of adhesive-backed Velcro into pieces that are as wide as your drawer openings, and as long as they need to be to cover each drawer opening completely.
Finally, place one piece vertically and another piece horizontally across each other so that they fully enclose whatever needs to be closed off.
Option 3: Simple Bungee Cords or Ropes
Bungee cords are a simple, cost-effective way to secure a cabinet in a van while driving. They don't take much effort to install and are easy to remove when you're ready for them to come off. You don't even need to search Reddit for this one.
---
What to prepare:
---
Instruction
First, cut off a piece of bungee cord that is long enough to reach across the drawer or cabinet and back again.
Next, wrap the bungee cord around both doors so that there is no slack in between them at all; if there is any slack, then your doors will be able to swing open while driving.
Finally, hook one end of the bungee cord onto either side of your cabinet door—for example, if your cabinet door has handles on each side, hook one end of the bungee cord onto each handle.
Helpful Tips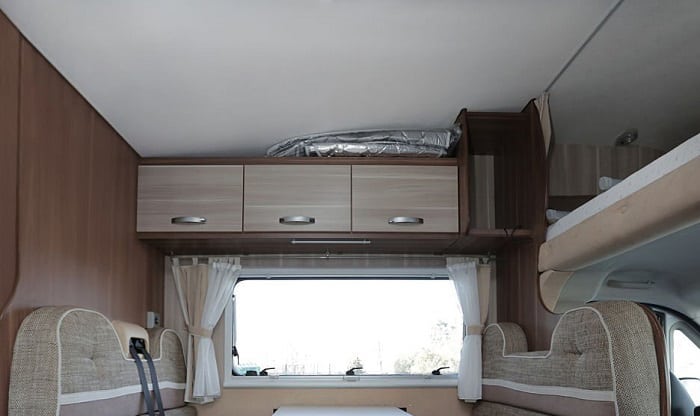 What to use to keep drawers closed?
The first thing most people think of is adding locks and motorhome cabinet latches. This will definitely help, but it's not always practical or possible. Many RV cabinets have doors that are too big for locks, and even if they do fit, there may not be enough room for the lock mechanism.
Velcro can also be an effective way to keep doors closed on smaller cabinets or drawers that don't have much room between the cabinet itself and the wall of the RV where it's mounted.
How do I stop my RV cabinets from falling off?
The first thing that you need to do is make sure that the cabinet is secured to the wall or floor in RV. In most cases, this is not an issue as most cabinets come with screws and anchors for attaching them to the walls of your RV.
How to secure the contents of RV cabinets and drawers?
One option is to use storage organizers. They come in a variety of shapes and sizes—from small boxes that will fit perfectly in a kitchen drawer to larger containers that can hold everything from toys to food items.
These handy devices can be used to keep things from rolling around in any compartment of your RV while moving, no matter what kind of road conditions you find yourself in.
Conclusion
If you want to make your RV travel more exciting and cost-effective, then knowing how to keep RV cabinets and drawers closed while driving should be a priority. You can ensure that they won't fall out when driving and to prevent things from falling, breaking, or spilling all over the place.
In this article, we've shown you a variety of ways on how to keep your RV cabinets and drawers closed while driving. Hopefully, you've found something that will work in your particular vehicle.
Read more: Ways to keep RV refrigerator door closed while traveling
"Hi, I'm Francis' husband—Calvin. Our story began with our shared passion for traveling. I have had a career journey for over 11 years at Ford Motor Company, where I took on the role of BMS SW Process Engineer.
Together with my wife, I have dedicated countless hours to exploring every nook and corner of the world. Ten years living in an RV may seem long, but time seems to fly by when I'm doing what I love with the person I love. 
That's why I am also a member of FMCA and have been a panelist on seminars at shows like FMCA's 103rd International Convention & RV Expo in Gillette, WY, where I can showcase my adaptability and expertise.
Like my wife, I hope to help you see the beauty of traveling off the beaten path by sharing insights into this lifestyle. In addition to my corporate roles, I also launched our website – Outdoorbits, in 2015 and continue to contribute my knowledge and skills to the present day. And I'll be completely honest with you—no hiding the truth or sugarcoating the possible challenges. 
So, if you want to run away from the busy lifestyle to embrace nature, I'm your guy."