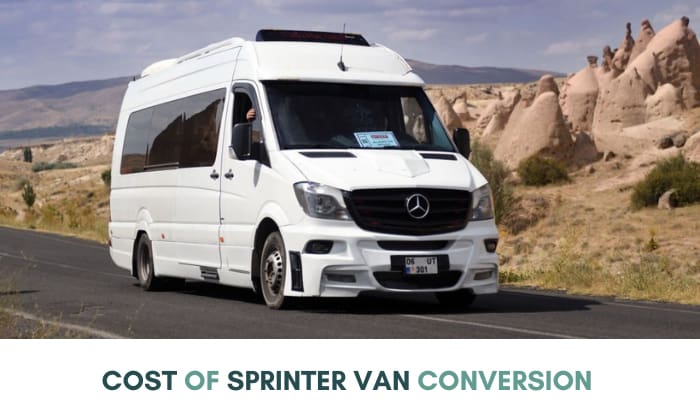 Converting your van into a sprinter van means allotting a budget for the necessary expenses. With that in mind, how much does a sprinter van conversion cost?
Sprinter van conversion costs can range from US$40,000 to US$60,000. That amount can go lower or higher, depending on factors like the electronics installed and the building materials used.
You can convert a sprinter van while on a tight budget. However, you need to know the essential factors that add or reduce the overall expenses.
Sprinter Van Costs
Right now, you might be considering van life. Therefore, your first and perhaps most expensive investment is the vehicle.
You can buy a brand new Sprinter Van like the 2020 Mercedes-Benz Sprinter for about US$41,000. If you don't have that amount of money to spend on a brand-new van, you still have the option to buy a second-hand model.
Visit classified ads like Craigslist online to search for used sprinter vans at reasonable prices. Take note that vehicles, including vans, depreciate relatively quickly. Therefore, it shouldn't be a surprise to see a model that's 1/4th of its original costs.
For example, you can buy a second-hand 2006 Dodge Sprinter 2500 Cargo Van for US$6,500. Although the costs are lower than the original price, don't forget to ask the owner about any issues.
Always consider extra costs when buying second-hand vehicles. Don't assume that the van is going to be free of issues once you get it. Also, if you can, ask the owner to test the sprinter van before finalizing the transaction.
Different Types of Sprinter Van
You can consider three different types of Sprinter Van when buying a new or used one.
1. Sprinter Cargo Van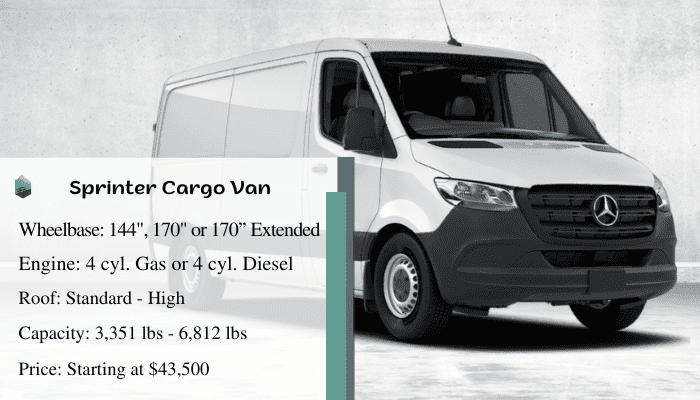 2. Sprinter Crew Van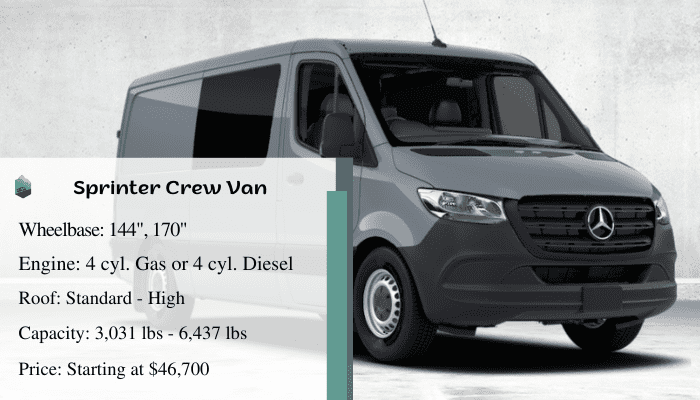 3. Sprinter Passenger Van
Factors Affecting Sprinter Van Costs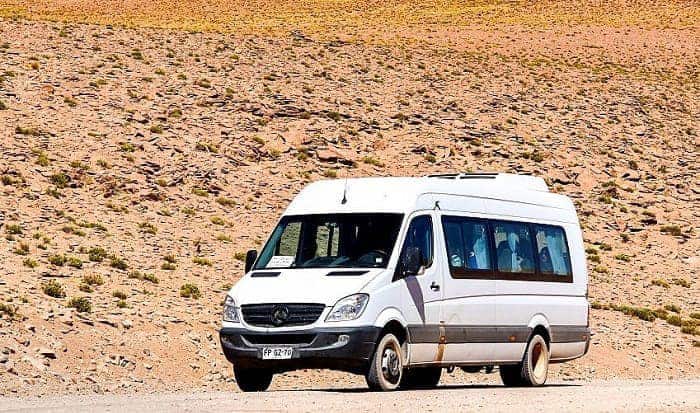 If you're wondering what goes into calculating sprinter van prices, here's a quick list to help you out:
Gas vs. diesel

: Gas is more expensive than diesel but can give your van faster acceleration and higher maximum speeds.

Body design

: Sprinter van makers offer different trims or styles for their offered vehicles. The simpler the design, the less expensive the price tag on the van.

Features

: Add-ons like swivel seats, exterior lighting, and sliding doors can increase sprinter van costs.
1. Electronics and Large Systems
At this point, you should already have a sprinter van. The next part is to make the vehicle more livable than before.
Start the conversion process by buying electronics and large systems. It might be tempting to start with the décor, but that can wait. For instance, a kitchenette is more important than a picture frame you saw in a department store.
Here's a sample list of electronics and large systems that you can install in your sprinter van:
Solar panels (US$220 for two 100W panels)

Auxiliary battery (US$263)

Kitchenette (US$400 to US$2,250 for a refrigerator, cooktop, and sink set)

Bed or mattress (US$150)

Vent fan (US$120 to US$200)

Cushions (US$1,150)

Toilet (US$140 to US$200)

Shower (US$440 to US$1,340)

Plumbing system (US$670)

Water tank (US$33)

Propane tank (US$50)
With this information, we can see that the total costs for these items are US$3636 to US$6,526. Remember, take the time to search for less expensive options if you're not in a hurry.
For example, the solar panels and auxiliary batteries mentioned in the list are already at a reasonable price point. Moreover, you can save money in buying the kitchenette if you avoid purchasing from popular brands.
Instead, you can buy from other companies that offer similar qualities to their items. That way, you'll have more money to spend on other essentials to complete the sprinter van conversion.
2. Building Materials
If you don't have a sufficient amount of power tools, you can save money on the sprinter van conversion by renting these items. For example, you can rent a brushless hammer drill for US$36 a day instead of buying a brand new model for about US$9,000.
Also, you can use reclaimed or recycled materials for walls and flooring to save money. Consider going to local construction sites or junkyards. Ask the caretakers if you can buy the scraps and discarded pieces fairly inexpensively.
Here's a sample list of building materials for your van conversion project:
Wood (US$475 to US$4,250)

Tiles (US$50)

Flooring (US$160 to US$200)

Paint and caulk (US$230 to US$300)

Insulation (US$220 to US$500)
Overall, you're going to spend about US$1,135 to US$5,300 on conversion materials.
Additionally, here's a list of power tools you might need for the project:
Tape measure

Utility knife

Drill and compatible drill bits

Circular saw

Straight edge

Forstner bits

Hole saw kit

Jig saw

Square and level

Nail gun
You can also substitute some of these items for their manual counterparts. For example, replace the circular saw with a standard handsaw.
Keep in mind that using manual tools replaces convenience with more money saved. Double-check your priorities if you're unsure about this decision to use manual tools.
3. Accessories and Décor
Costs for sprinter van accessories and décor vary significantly for each person's unique style preferences. For instance, a person with minimalist design tastes might spend less on van décor than an individual that wants to decorate the vehicle with antiques.
Take note that you can stick with the plain sprinter van look at the beginning of your van life. Add those other items once you have extra cash in your budget.
Still, don't forget about lighting your van. Otherwise, you're going to rough it out by using campfires every night, unless you want that scenario.
Thankfully, lighting for vans isn't severely expensive. You can use a set of standard 60W light bulbs for less than US$20. Another option is to buy smart bulbs, but those models can make you spend more than US$50 per piece.
Estimate Price for Sprinter Van Conversion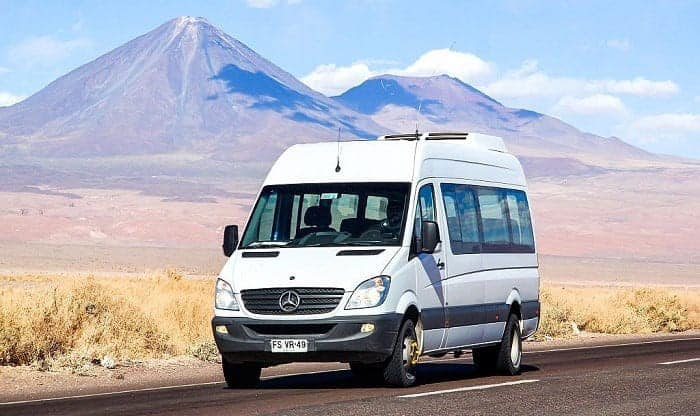 After noting all the expenses, you should spend around US$4,791 to US$11,826 to convert your sprinter van into a livable mobile space. Also, the costs can increase if you still have to buy a Sprint van.
How Long to Complete a Sprinter Van Conversion
If you're doing the van conversion project alone, it can take four to six weeks when dedicating every possible day to this operation. Otherwise, it can take four to six months if you're doing it part-time.
A couple working on a sprinter van conversion project accumulated a total of 1,080 hours to finish the operation. Additionally, these people spent over US$56,000 for their van and everything else to furnish their new mobile home.
If we consider that example, a three-person team should take about 12 weeks to three months to complete the conversion (with 6 hours of work/day per person, 5 days a week).
Do Sprinter Vans Hold Their Value
Converted sprinter vans offer excellent resale value. For instance, a sprinter van with all the necessary amenities can have a resale price of about US$30,000. With this money, you can buy another sprinter van and should still have enough to convert it.
Final Words
Now you understand how much does a sprinter van conversion cost; It costs about US$40,000 to US$60,000 to buy a sprinter van and convert it into a livable mobile home. Take note that different factors affect overhead costs, such as the model and make of the vehicle.
Furthermore, electronics, building materials, and decorations can add to your expenses. Make a list of the things you need to buy for the project so you'll always have cash for emergencies.
"Hi, I'm Francis' husband—Calvin. Our story began with our shared passion for traveling. I have had a career journey for over 11 years at Ford Motor Company, where I took on the role of BMS SW Process Engineer.
Together with my wife, I have dedicated countless hours to exploring every nook and corner of the world. Ten years living in an RV may seem long, but time seems to fly by when I'm doing what I love with the person I love. 
That's why I am also a member of FMCA and have been a panelist on seminars at shows like FMCA's 103rd International Convention & RV Expo in Gillette, WY, where I can showcase my adaptability and expertise.
Like my wife, I hope to help you see the beauty of traveling off the beaten path by sharing insights into this lifestyle. In addition to my corporate roles, I also launched our website – Outdoorbits, in 2015 and continue to contribute my knowledge and skills to the present day. And I'll be completely honest with you—no hiding the truth or sugarcoating the possible challenges. 
So, if you want to run away from the busy lifestyle to embrace nature, I'm your guy."