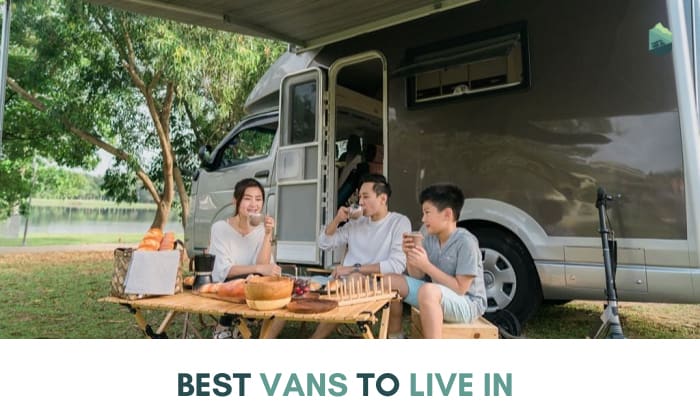 Your van will be the first, and perhaps the largest investment you'll make before entering the van life. Take note that you're going to spend a lot of time in the vehicle. Therefore, take the time in considering the best vans to live in to avoid regretting your decision.
Choose from a myriad of excellent vans to live in, ranging from the Mercedes Sprinter to a school bus. These options have different features and traits, which cater to different nomads.
Here, you're going to take a look at six of the best vans to start and continue your nomad life with. You'll also know the important factors to consider to help finalize your purchasing decision.
The Top 6 Vans to Live In
The reasonably small yet homey mobile homes you see on social media can be yours with the right vehicle. Here, you can take a look at six of the best vans to convert into mobile homes.
1. Mercedes Sprinter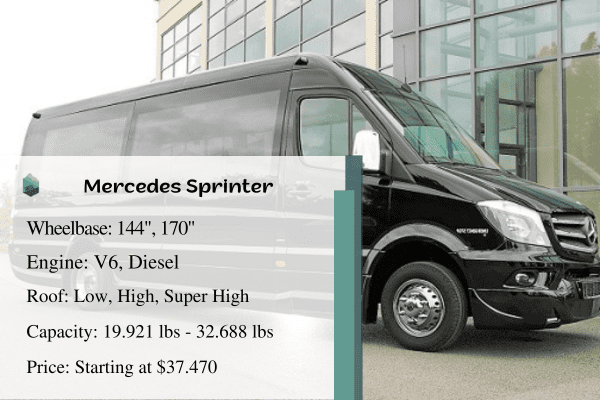 The Mercedes Sprinter is the quintessential van to live in for many van life practitioners. This vehicle evolved throughout the years and has been the primary choice for van lifers since it launched in 1995.
This van can be your preferred mobile home because of different reasons. Some of its offered benefits include excellent performance, top-notch specifications, and a myriad of safety features.
Modern models, like the 2020 Mercedes Sprinter, also use advanced car technologies for your utmost convenience. Take advantage of features like a 7-inch display with smart voice control, driver assistance and monitoring, and braking assistance.
2. Volkswagen Bus
Like the Mercedes Sprinter, the Volkswagen Bus is the primary choice for many van life practitioners.
The first Bus debuted over seventy years ago, and it helped revolutionize passenger vehicles at that time. Its size allowed people to outfit it with different furniture, such as tables, chairs, and even small kitchen spaces.
Today, you can consider modern iterations of this vehicle for your next mobile home. The 2020 Volkswagen Bus has a modern look for its cabin and exterior. Plus, it has advanced features, such as a futuristic cockpit and rotating front bucket seats.
3. Vauxhall Movano
Unlike other vans, the Vauxhall Movano allows you to customize the vehicle from the start. Choose among different Movano models ranging from the Panel Van to the Crew Cab.
The Movano excels over other vans because of features focused on comfort and convenience. Plus, it's one of the tallest vans you can use, which also means more room to move around while you're lounging in the vehicle.
The Movano also has a fiberglass roof, which is sufficiently durable, especially in protecting against different weather. However, this material is also quite customizable as it's easy to cut if you want a custom moon or sunroof.
4. Volkswagen Crafter
Speak of the Crafter, and many vehicle enthusiasts will tell you that it's one of the sought-after classics for those into the van life. This Volkswagen van is a great choice for its roomy cabin, amazing build quality, and superb performance.
Additionally, Crafter's parts are reasonably easy to find on the market. For example, one quick online search can let you find a compatible hood bra for this vehicle in a few minutes.
The Volkswagen Crafter is also an excellent option for those who want to visit off-road locations frequently. This vehicle can go through different terrains like motorways and country lanes without giving you significant causes for concern.
5. Ford Transit
The first generation Transit debuted in 1965. At first, people saw it as a great transport van. However, nomads had other plans as they outfitted this vehicle with different items meant for living on the road.
Today, you have the option to own a 2021 Ford Transit for it to become your next mobile home. It has features designed to cater to its passengers' utmost comfort and convenience.
Plus, the spacious cabin got bigger throughout its iterations. The 2021 model even has a sufficiently tall cabin, which won't make some people crouch or lower their heads upon entry.
Here's an overview of the 2021 Ford Transit to help you decide if this vehicle is the right option for your van life needs.
6. Renault Trafic
The Renault Trafic doesn't have a height as tall as the Transit. Therefore, this van might not be the best van to live in for weeks and years. However, it can be the perfect van for the weekend outdoor warrior.
Over the years, the Trafic evolved to cater to modern nomads and people who like outdoor vacations occasionally. Its 2019 iteration has a 2.0-liter diesel engine, which replaced its old 1.6-liter engine from previous models.
Inside, you'll find a plethora of storage options, some of which are reasonably close to the driver. You can even grab a cold drink from storage while you're driving without needing assistance.
Like other vehicles, the Trafic has more features with its more expensive trims. For instance, you can take advantage of climate control and better cruise control for its Sport and Black Edition models.
Important Factors to Consider When Selecting the Best Van to Live In
Beginners in van life often find it exciting to browse through the different vans on the market. However, that excitement can make them blind to the specifics they need.
Here's a list of the essential factors you need to consider while shopping for the best van that will become your next mobile home.
Check for safety features. Remember, you can never be too careful while driving. Vans with optimal safety features, such as hard-wearing seatbelts, will give you peace of mind while you're driving your van.
Buy a van within your budget. Most vans with extra 'bells and whistles are generally more expensive than most models. Stick to your budget, and you should have money left for other essential items to bring on the road.
The size of the van. Are you going to live in the van by yourself or are you about to embark on the van life with other people? Ask yourself this question to help you select a vehicle that's the appropriate size for your needs.
Choose between gas or diesel. Diesel engines are more expensive than their gas However, diesel is more fuel-efficient than gas. On the other hand, you can save money in the beginning if you choose a gas engine.
Consider the roof height. Do you want a van with a standard roof? Perhaps you need a pop-top or high-top van. Take the time to assess the number and size of the items you're going to put in the vehicle to help you decide your roof needs.
Additionally, don't hesitate to ask the van life community as many questions as you can. Experts in this lifestyle can help you prepare for your upcoming journey, especially while you're still in the process of selecting the right van.
Final Words
Choose from the best vans to live in to ensure your comfort in mobile homes. Take the time in assessing your needs while choosing your van so you won't regret your decision.
Still, some vans on the market are better than others. Some vehicles, like the Ford Transit and Mercedes Sprinter, have unique features and traits, allowing them to separate themselves from the crowd.
Other vans, like the Volkswagen Crafter, make it easy for customers to find add-ons like hood bras. Don't rush your selection. That way, you can gain excellent value from your purchase.
"Hi, I'm Francis' husband—Calvin. Our story began with our shared passion for traveling. I have had a career journey for over 11 years at Ford Motor Company, where I took on the role of BMS SW Process Engineer.
Together with my wife, I have dedicated countless hours to exploring every nook and corner of the world. Ten years living in an RV may seem long, but time seems to fly by when I'm doing what I love with the person I love. 
That's why I am also a member of FMCA and have been a panelist on seminars at shows like FMCA's 103rd International Convention & RV Expo in Gillette, WY, where I can showcase my adaptability and expertise.
Like my wife, I hope to help you see the beauty of traveling off the beaten path by sharing insights into this lifestyle. In addition to my corporate roles, I also launched our website – Outdoorbits, in 2015 and continue to contribute my knowledge and skills to the present day. And I'll be completely honest with you—no hiding the truth or sugarcoating the possible challenges. 
So, if you want to run away from the busy lifestyle to embrace nature, I'm your guy."