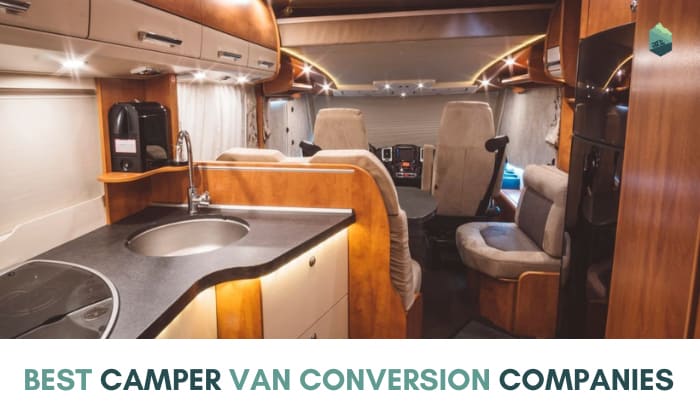 The allure of the nomadic lifestyle is growing on you. Now, you want to convert your van into a small yet livable mobile home. What are the best camper van conversion companies for your specific needs?
Different trustworthy van conversion makers are available. These companies range from Tourig to Outside Van, and they offer different products to help satisfy the needs of your van conversion project.
Continue reading to know more about each van conversion company.
Top 9 Best Conversion Companies 
1. Tourig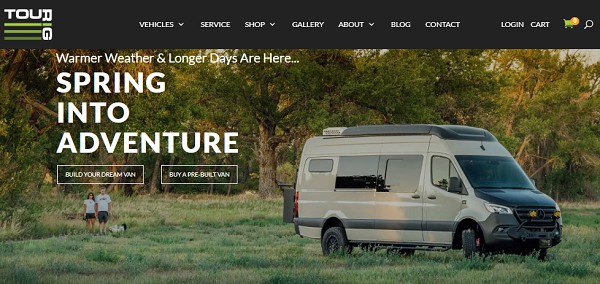 The Tourig brand began in 2001 as a concept. Eric Miller and a business partner were the brains behind the operation. At first, these individuals didn't know that their company began as they created the first of many adventure vehicles.
That first vehicle wasn't just a mobile home as Miller and his partner transformed it into a moving office, hotel room, and headquarters in one van. Over time, people noticed the transformed vehicle, which led to the selling of another converted van.
Today, Tourig is one of the many known van conversion companies that take pride in providing excellent products and services to customers. The brand values a strong work ethic and a competitive nature to outperform other firms in the industry.
Specialty: Ford Transit, Mercedes-Benz, Ford F-550
Cost: Starts at around $55.00, includes a $5.000 fully refundable deposit
Production Time: 6-12 weeks (depending on the build)
Location: Golden, Colorado
2. Sportsmobile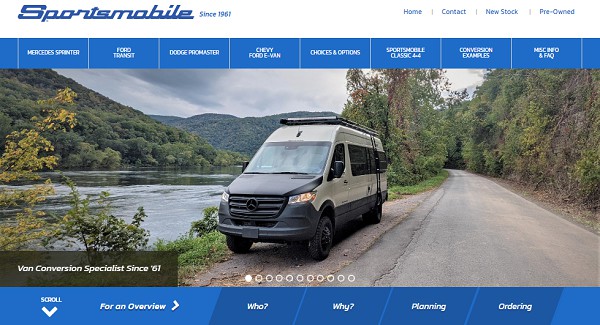 Another fine example of leading van conversion companies is Sportsmobile. In 1961, this company opened its doors in El Paso, Texas. But it moved three years later to Indiana and changed its name to Sportsmobile North, Inc.
The business garnered attention and sales as time passed, allowing it to spread its operations across different regions in the US. Today, Sportsmobile has locations in Austin, Texas, Huntington, Indiana, and Phoenix, Arizona.
Although Sportsmobile specializes in providing camper van conversion kits to its customers, the business also offers other products. For instance, it offers individual items like arctic shades for the rear windows of the Mercedes Sprinter.
Specialty: Mercedes Sprinter, Ford Transit, Chevy / Ford E-Van, SportsMobile Classic 4×4
Cost: Starting at $50.000, includes a $4,000 non-refundable deposit
Production Time: 8 to 14 months (Depending on location)
Location:  Golden, Colorado
3. Van Specialties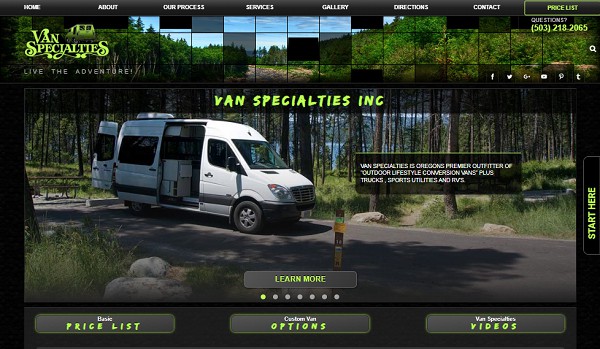 Van Specialties has been in the van conversion sector for over four decades. The idea to create a business in this industry began after realizing that many RVs were too big. Also, many of these vehicles didn't offer excellent customization options.
Therefore, Van Specialties sought to offer van conversion kits to people who want or are enjoying the nomad life. The company offers different products in its gallery, including rubber flooring, wood decks, carpets, inverters, solar panels, and many more.
Van Specialties also separates itself from the crowd by offering custom woodwork and cabinetry. It's an ideal place to start if you're undecided on the type of rig you want to create. Thankfully, this firm caters to different van makers from Chevy to Mercedes.
Specialty: Ford, Earlt Vans, Mercedes Sprinter
Cost: Starts at around $40.000
Production: Around 12 – 16 weeks
Location: Portland, Oregon
4. Sync Vans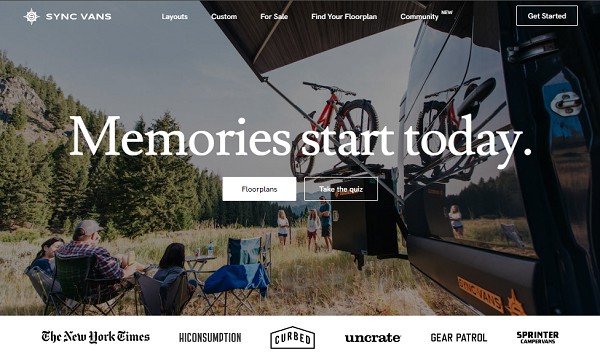 Sync Vans makes the entire buying process of van conversion kits easy, making it an excellent choice for people starting their nomad lives. The business offers recommended layouts to help you personalize the camper van you desire.
This van conversion company offers products found in two major categories: semi-custom and fully custom. Select the first option, and you'll see different examples that you can customize to your liking.
On the other hand, the fully custom option allows you to build your preferred van conversion kit from scratch. Take note that these custom options can be more expensive than other variants on the market.
Specialty: Mercedes, Sprinter Van
Cost: Starts at around $50.000
Production: Around 12 – 16 weeks
Location: Bend, Oregon
5. Adventure Wagon
If you want continuous freedom of designing your converted camper van, check out Adventure Wagon. This company offers an engineered Modular Interior System for compatible vans.
This system gives customers wall-to-wall anchor points, providing van life nomads with solid foundations for their vehicles. The business also takes care of installing the wiring, insulation, ventilation, and interior panels.
Additionally, Adventure Wagon takes pride in offering future-proof conversion kits. It's because you can add more modules to your dream van setup if you desire. These additional modules include sinks, showers, kitchen stoves, and water storage systems.
Specialty: Mercedes-Benz, Dodge, Freightliner Sprinter
Cost: Starts at around $6.000
Production: Kits shipped within 3-5 business days
Location: Salt Lake City, Utah
6. Vanworks
Another camper van outfitter that joins the list of companies providing convenient shopping experiences is Vanworks. This particular business offers its kits in different packages: base camp van conversion and trail ridge van conversion.
The idea to create this company started with Keith Hess, the business's fearless leader, who's also a carpenter by trade. As an individual, Hess enjoyed buying and selling cars, which eventually led to customizing camper vans.
Vanworks started its operations with humble beginnings. The company produced over 200 van and truck conversion kits during its early years. Today, it provides thousands of conversion kits to different customers.
Specialty: Mercedes-Benz, Ford Transit, RAM ProMasters
Cost: Starts at around $45.000
Production: Around 12 – 16 weeks
Location: Fort Collins, Colorado
7. Rossmönster Vans
Unlike other companies that immediately went into the van conversion sector, Rossmönster Vans has a different story. The business's staff started by creating custom woodwork with the help of its carpenters, engineers, and woodworkers.
Like other reliable companies in this sector, Rossmönster Vans aims to provide the best quality products to its customers. It takes pride in keeping customers happy by allowing them to experience and enjoy the camper van of their dreams.
Aside from supplying customers with van conversion kits, Rossmönster Vans also provides van rental services. Take advantage of this opportunity if you're not yet ready to become a full-fledged camper van owner.
Specialty: Woodwork, Mercedes-Benz
Cost: Starts at around $90.000, includes a $5.000 refundable deposit
Production: Around 3 weeks
Location: Longmont, Colorado
8. Colorado Camper Van
Colorado Camper Van opened its doors in 2009 to cater to customers in need of high-quality camper van conversion kits. This company is ideal for van owners that don't want to spend significant amounts of cash on overwhelming conversion projects.
Instead, Colorado Camper Van provides reasonably simple packages like a pop-top roof and basic interior setups. You can even feel the company's dedication to its cause when you visit its website from its tagline.
Specialty: Ford Transit, Ram Promaster, Mercedes Sprinter, Nissan NV, Ford E Series, Chevy Express / Savanah, Eurovan Winnebago
Cost: Starts at around $30.000
Production: Around 12 – 16 weeks
Location: Loveland, Colorado
9. RB Components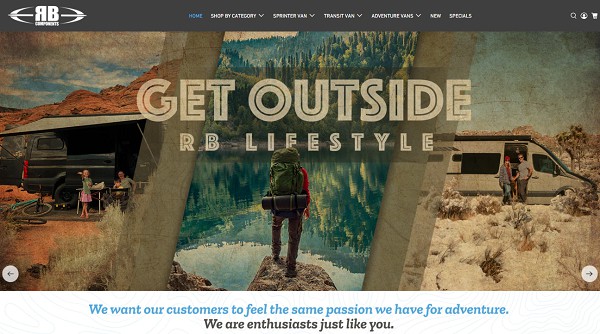 RB Components specializes in Mercedes-Benz Sprinter Van conversions. Customers can take advantage of many products in this company's gallery, including dispensers, tables, wall cabinets, bunk beds, and cushions.
Additionally, RB Components offers complete kits, panel bed accessories, and individual panels. The company has also been in operation since 2000, making it one of the most credible businesses in this sector.
Specialty: Custom-built camper van conversions
Cost: Starts at around $5.000, includes a 25% – 50%, non-refundable deposit
Production: Kits shipped within 1- 2 business days
Location: Riverside, California
Final Words
Finding the best camper van conversion companies can be tough. Thankfully, many trustworthy businesses in the industry offer high-quality conversion kits to customers.
Consider checking out companies like Tourig, Van Specialties, and Sync Vans. Many of these businesses also offer other products besides van conversion kits. For example, you can buy arctic shades for the rear windows of Mercedes Sprinter vans.
Also, the companies listed above have physical locations across the US. You can also contact these businesses by giving them a call with the provided telephone numbers.
"Hi, I'm Francis' husband—Calvin. Our story began with our shared passion for traveling. I have had a career journey for over 11 years at Ford Motor Company, where I took on the role of BMS SW Process Engineer.
Together with my wife, I have dedicated countless hours to exploring every nook and corner of the world. Ten years living in an RV may seem long, but time seems to fly by when I'm doing what I love with the person I love. 
That's why I am also a member of FMCA and have been a panelist on seminars at shows like FMCA's 103rd International Convention & RV Expo in Gillette, WY, where I can showcase my adaptability and expertise.
Like my wife, I hope to help you see the beauty of traveling off the beaten path by sharing insights into this lifestyle. In addition to my corporate roles, I also launched our website – Outdoorbits, in 2015 and continue to contribute my knowledge and skills to the present day. And I'll be completely honest with you—no hiding the truth or sugarcoating the possible challenges. 
So, if you want to run away from the busy lifestyle to embrace nature, I'm your guy."