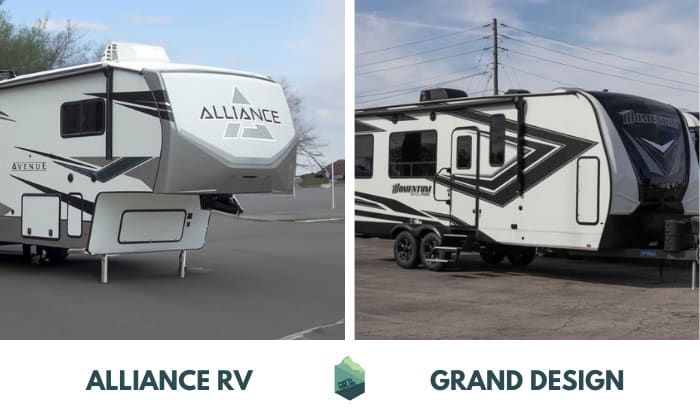 We understand the confusion of prospective new RV owners deciding between Alliance RV vs Grand Design. These brands are relatively new but have slowly established themselves in the competitive RV market.
Which RV you buy depends on your needs and understanding of these brands' unique selling points. Here's a glimpse of how the Grand Design vs Alliance RV matchup looks.
 
Alliance RV
Grand Design
Construction
Unitary
"Stick-built"
Chassis
(the base frame)
Custom
Standard
Build quality
High
Above-average
Interior
Customizable
Luxury

Also customizable

Customer service
Excellent
Good
Price
Affordable
More expensive
Year established
2019
2012
Best known for
Toy haulers, 5th wheels
Luxury 5th wheel, toy haulers, travel trailers
We recognize the snapshot is insufficient to help you decide. Please continue reading.
Overview of Alliance RV and Grand Design
Deciding between Alliance Paradigm vs Grand Design Solitude requires understanding their origins, priorities, and other relevant information.
Although Alliance and Grand Design deserve an extensive review, we'll try to paint a comprehensive picture of each.
1. Alliance RV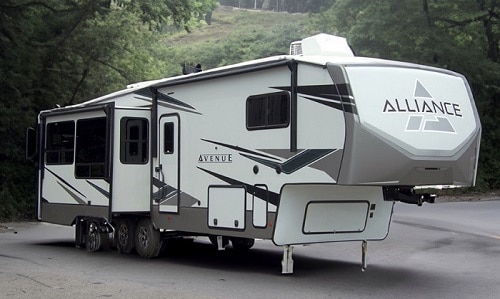 To answer the question "who makes Alliance RV?", the creators of the brand back in 2019 are none other than Brian Brady and his sons, Ryan and Coley. Since its establishment, the company's manufacturing facility and headquarters are in Elkhart, Indiana. Despite being a newcomer, its business model sets it apart from the rest.
Its unique selling point is the "no-cloning policy." You can bet Alliance RV designs its products from scratch, ensuring no motorhome drives off the assembly line looking like others.
Alliance RVs deliver excellent craftsmanship, translating to superb handling and smooth ride. The amenities are enough to make an Alliance RV your second home.
2. Grand Design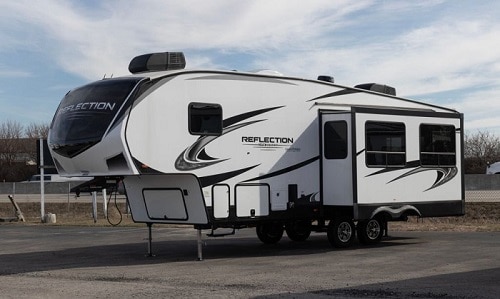 Like Alliance RV, Grand Design calls Indiana its home, albeit at Middlebury. Another difference is its founders – senior Keystone RV officials who jumped ship in 2012 to establish Grand Design.
Although the brand is now a Winnebago subsidiary (as of 2016), it retains its single-minded focus on customer relations. The vehicles feature premium materials, and the layout leaves nothing to the imagination.
Grand Design's unique selling point is its customizable interior. Although Alliance RV also provides personalization, Grand Design ups the ante using only premium-quality, luxurious products. Every adventure is like driving a five-star hotel on wheels, so long as you don't mind how expensive a Grand Design model can be.
Differences between Alliance RV and Grand Design

Let's now look at what differentiates Alliance RV from Grand Design.
1. Construction Technology
Alliance RV doesn't want to be like the rest. Hence, it utilizes a method known as "unitized construction." to guarantee exceptional durability. In this approach, the brand
builds its 5th wheels and toy haulers with a single piece of premium-quality metal.
Hence, you can expect the RV's floors, walls, and ceiling to have no seams. This design attribute makes the vehicle more sturdy. No panel will tear from others, ensuring the RV will last many years.
Meanwhile, Grand Design adheres to the "stick-built" approach, building an RV like LEGO. They connect sections to produce a lightweight RV, improving fuel economy but at the expense of durability.
2. Chassis Design

The RV frame or chassis is also different. Grand Design utilizes a standard design, allowing it to source from OEM providers and lowering the production cost for its already expensive mobile home.
On the other hand, Alliance RV customizes its chassis, increasing production costs but guaranteeing superb motorhome handling. The design attribute also ensures a smooth and comfortable ride.
3. Interior
Grand Design has the upper hand in terms of luxury features and amenities. Although Alliance can also provide such elements, these are mostly optional.
You can expect to pay more for stainless steel appliances, advanced heating/cooling technologies, solid-surface countertops, energy-efficient lighting, and other amenities with an Alliance RV. Grand Design also provides these options, although what they offer is much more luxurious.
4. Build Quality
Alliance RVs have exceptional build quality, exemplified by premium-quality materials and rigorous pre-delivery testing and evaluation. The frames feature reflective insulation, guaranteeing energy efficiency and unmatched structural sturdiness.
Meanwhile, Grand Design's construction quality is slightly lower than Alliance's. It uses Luan laminated plywood instead of Azdel (which Alliance RV uses), making Grand Design RVs slightly less durable than Alliance.
The good news is Grand Design's pre-delivery inspection includes 300 parameters before ticking off a unit to a customer.
5. Customer Service

Alliance RV reviews are scarce because the company is only about four years old. However, its customer-centricity is evident in multiple channels. It has an active Facebook group that allows the brand to generate insights into customer sentiments.
Meanwhile, about 60 complaints on Beter Business Bureau plagued Grand Design since 2020. Although the customer issues give the RV brand a 3.9/5.0 rating from RVInsider, Grand Design remains steadfast in its customer focus.
6. Cost and Value for Money
Alliance RVs range from $80,000 to $115,000, while Grand Design costs $40,000 to $182,000. It's worth noting that Grand Design has more product diversity, leading to a broader price range.
Grand Design offers better value for those who want luxury premium features. On the other hand, Alliance RV is a better deal if one needs a vehicle that can outlast Grand Design.
7. Pros and Cons
Alliance RV
Customer-centric business model
Rigorous pre-delivery testing and evaluation
More attractive prices
Exceptional RV durability
A new industry player
Limited RV options
Limited dealership network
Grand Design
300-parameter pre-delivery inspection checklist
Luxury amenities and features are standard
Strong after-sales service support
Less affordable
Uses Luan plywood instead of Azdel
Which is Better?
With an identical warranty coverage (1-year base and 3-year structural), choosing between Grand Design and Alliance hinges on your preferences.
Pick Alliance if you require an affordable yet long-lasting toy hauler or fifth wheel. Meanwhile, Grand Design is perfect if you demand the utmost luxury in your RVing adventures.
Things to Consider Between Two Brands
Budget – Alliance is an excellent option if you're on a tight budget.
Maintenance requirements – Alliance's more robust RV construction allows for more convenient maintenance. Meanwhile, Grand Design's luxury features might require more meticulous care.
RV activities – Grand Design has more options to cater to different RV activities. Alliance only has three.
Availability – Grand Design has more dealers than Alliance, improving access to its RVs.
Conclusion
Deciding between Alliance RV vs Grand Design might look challenging at first. However, everything hinges on what you need.
Buyers on a tight budget should consider Alliance RV toy haulers or fifth wheels, provided they don't mind getting only the fundamental RV essentials. It's the perfect RV for those who want adventures for the next two or three decades.
On the other hand, Grand Design appeals more to folks with exquisite tastes and deep pockets. With lavish interiors and above-standard craftsmanship, a Grand Design RV epitomizes luxury on wheels, provided you don't mind its price tag.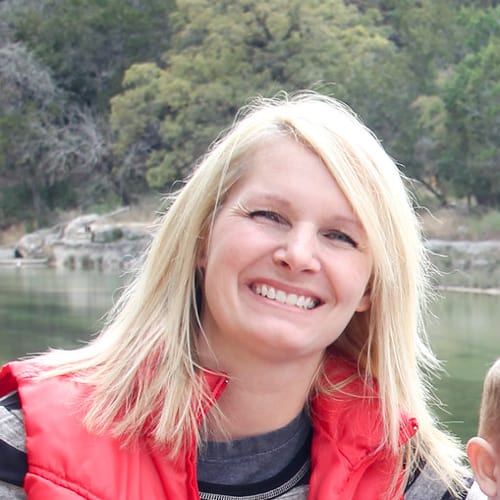 As someone with a burning passion for traveling, I want to inspire others to adopt a nomad lifestyle to appreciate the beauty of the world. Therefore, I seek to put my experience to good use—helping you with your adventure on the road.