We no longer sell Airide air suspension kits, we do however do Driverite air suspension kits which are actually cheaper. Our range of air suspension kits for Motorhomes.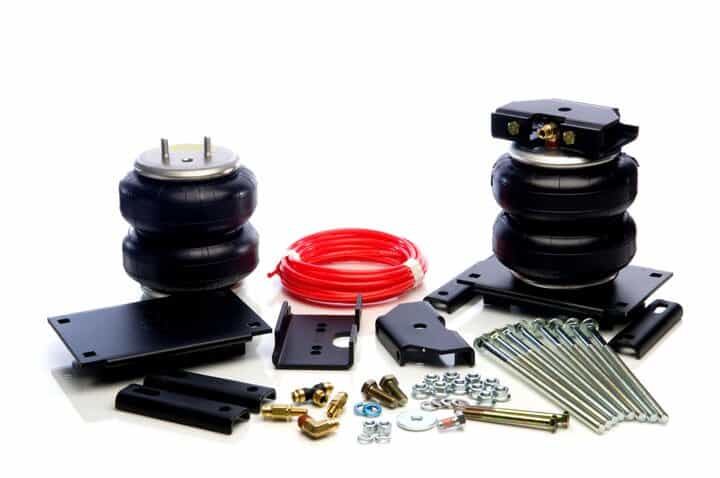 Motorhome Air Suspension
Fiat Ducato / Boxer / Relay 1994 – 2006
Fiat Ducato / Boxer / Relay 2007+
Are your motorhome wheel arches way down on the axles ? Airide Air Suspension will raise them
Once loaded up and going on trips away does the handling need improvement when driving ? Air suspension on motorhomes cures this

Mercedes Air Suspension Kit
Would you like a quick and easy way of levelling your motorhome when on site ? Air suspension can do this

Before Airide suspension is fitted to this Pilote R850, see how the suspension at the rear 'sags' down.


And now after the Airide suspension has been fitted. A Vast improvement.
All of these scenarious can be resolved by fitting an Airide Suspension kit to your motorhome.
Note: The Airide Air suspension kit for motorhomes is not compatible with the following vehicles (VW T4 / T5 / Older Type 2) nor is it compatible with any motorhome with an Alko Chassis or motorhomes with a Tag Axle. The kit for a Ford Transit Twin rear Wheel is also more costly at £640 inc fitting due to it having a few extra brackets which obviously incur more costs and take longer to fit.
Tag axle chassis's are those with twin rear axles (so it appears as if the motorhome/van features 3 wheels on either side), tag axles are generally defined as a trailing axle that is normally mounted behind the drive wheels (and is un-driven).
We can supply air suspensions for Twin Rear wheel transits and Mercedes 416 Chassis but not twin wheel Iveco.
Some Mercedes Motorhomes may also need the purchase and fitting of an additional Spacer pack which costs £165 price depending on whether your Mercedes based Motorhome has the spacers fitted already.
The Airride Pneumatic suspension kit fits Fiat Ducato / Peugeot Boxer /Ford / Talbot / Iveco and Mercedes based motorhomes as long as the motorhome has leaf springs and is a single wheel (Not twin wheel) configuration on the rear axle.
This system consists of two 8″ (20cm) diameter firestone air springs fitted between the chassis and axle and inflated/deflated from inside the cab through a schraeder valve and gauge.
Advantages of fitting an Air Suspension Kit to your motorhome
Greatly increased straight-line stability on motorways, in strong cross winds and when being overtaken by heavy vehicles.
It enables you to, stiffen the rear suspension by increasing the air pressure alleviating any sagging of the rear suspension due to incorrect or over loading, and allowing the vehicles ride height to be kept level.
Body roll at roundabouts and when cornering is decreased and the general ride is much improved.
Fitting air ride air suspension to your motorhome is easily achieved.
See photo below showing Bump Stops, this is removed and then the air bag is fitted in its place, plastic pipework is then run to the gauge (Normally fitted by our fitters in the footwell) The system is then pressure tested.
Bump stop shown before Airide is fitted
Air Bag is now in its place
Side View of Air bag
Airide Air Suspension for Motorhomes Reviews
Below are a selection of reviews of Airide Air Suspension for motorhomes's from our past customers with the most recent review of the Airide Air Suspension for motorhomes at the top, we hope you find them useful.